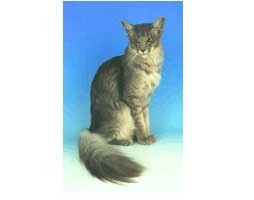 Breed Description:
The Javanese is elegant and angular, with the elongated body, wedge-shaped head, large ears and blue eyes that are typically found in the Siamese. It's really only different from the Siamese in that it has a long, silky coat. That said, it is only different from the Balinese in the colors of its coat. To describe the Javanese can get a bit confusing, especially because the United States, Britain and New Zealand all have different ideas of what defines a Javanese.
History & Origin: When breeders in the United States were trying to develop the Balinese (a long-haired Siamese), kittens were sometimes born with coat patterns that didn't conform to the basic Siamese colors. Because these kittens could not be accepted as true Balinese (again, just long-haired versions of the Siamese), a new category called Javanese was developed.
In New Zealand, any Siamese that have spotted or solid colored coats are called Javanese. In Great Britain, long-haired Oriental cats, which were originally bred to re-create the Angora breed, are now referred to as Javanese.
Character & Temperament: Javanese are similar in many ways to Siamese in temperament, but they are considered better with children. Their individual personalities are often linked to their color. Javanese with Tortie Points are said to be an acquired taste-either you like them or you don't. They are a bit opinionated and also a bit dizzy. Red and cream point Javanese are said to 'get their color from Cupid's arrow.' They are laid back and loving. Lynx point Javanese oscillate between dignified and mischievous-you never which personality you'll get.
Color (U.S.): Tabby, tortie and lynx points; red, cream and cinnamon points; other non-traditional Siamese color forms like those seen on Colorpoint Shorthairs.
Coat Type: Longhaired; the Javanese coat is generally long, silky and luxurious with various degrees of plumage on the tail.
Grooming: Like the Balinese, the semi-longhair coat of the Javanese is easy to take care of because it lacks a wooly undercoat. A gentile brushing once each week-more when shedding-is easily enough to keep it in top condition. Claws should be trimmed and ears cleaned only when necessary.
Health Considerations: Unknown
Trivia: To make things just a little more confusing, the name Javanese is also interchangeable with Mandarin, Oriental Semi-longhair or Angora depending on the region.