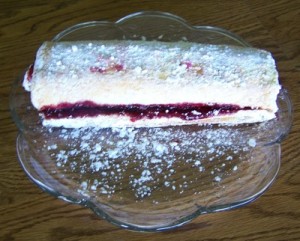 As a girl my Mother made many jelly rolls, they were a real treat every time. Later in life Mother told me they were usually made to use up jelly or because they are made with simple ingredients kept on hand. What ever the reason they are still a favorite of my family.
Ingredients:
1 cup flour
1 tsp. Baking Powder
1/4 tsp. salt
3 eggs
1 cup white sugar
1/3 cup water
1 tsp. vanilla
powdered sugar
1 pint jelly
Directions:
Blend the flour, baking powder, and salt; set aside. Beat the eggs until they are very thick and lemon colored, slowly add the sugar. Turn your mixer down on low and add the water and vanilla. Fold in the dry ingredients then pour into a cookie sheet lined with greased waxed paper that sticks up over the edges. Bake 15 minutes at 375 degrees F. Loosen the edges from the paper and turn over onto a cloth covered with powdered sugar. Remove the paper, then roll the jelly roll from one narrow end to the other, cover with the cloth, and let cool. When it is cool unroll and spread with jelly, pudding, thickened fruit, or whipped cream - whatever you want for a filling. Roll back up and sprinkle more powdered sugar over the roll, if desired.
There are many ways to vary the recipe, you can add cocoa and make a chocolate pudding for the filling, then frost with chocolate frosting for one.
By Ann Winberg from Loup City, NE