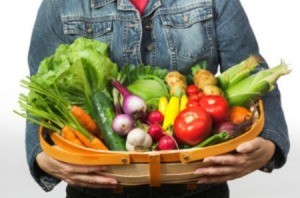 Would you love to enjoy the benefits of a backyard vegetable garden but don't have enough time or space to grow your own food? If so, you may want to consider buying a share in a Community Supported Agriculture farm (CSA). Not only will you get a weekly supply of the freshest local produce available, but you'll be supporting a local farmer while developing a direct link to where your food is grown.
What is Community Supported Agriculture (CSA)?
CSA's as defined by the United States Department of Agriculture:
"A community of individuals who pledge support to a farm operation so that the farmland becomes, either legally or spiritually, the community's farm, with the growers and consumers providing mutual support and sharing the risks and benefits of food production. Members or shareholders of the farm or garden pledge in advance to cover the anticipated costs of the farm operation and farmer's salary. In return, they receive shares in the farm's bounty throughout the growing season, as well as satisfaction gained from reconnecting to the land."
How a CSA Works
Administration: Every CSA is structured differently in order to meet the needs of its members. Many variations exist, including the level of financial commitment, quality of communication, and active participation by its shareholders. Growing, producing, and distributing food takes special skills, and how a CSA is administrated can have a big effect on the overall quality of your experience. Before joining one, be sure to find out how your CSA works, and investigate who will be running it and how long they have been in charge.
Cost of shares: Share prices can vary depending on location, length of season, average quantity and selection of food per share. Prices can range anywhere from $350-$550 for a growing season, which may last from June to October depending on your part of the country. A "share" of each type of crop offered is typically enough for 2 people for several days, and may fluctuate a bit week to week depending on what crops are in season. Many CSA farms offer different share sizes (half or quarter shares) or offer seasonal shares (summer, fall, winter, etc.)
Product variety: The majority of CSAs offer a variety of vegetables, fruits, and herbs in season. Some also provide additional share options including eggs, meat, milk, baked goods, soups, preserves, cut flowers, and even firewood. The crops and quantities offered really depend on the individual farm or farms included in your membership. Some CSAs specialize in a providing a single commodity. Others team up with a number of producers in order to provide their members with a greater variety of goods. Many also change their offerings based on the feedback of CSA members and the results of trials with new crops.
Weekly distribution: Shares are typically distributed weekly and are picked up by members at a central location. Pick-ups are scheduled on a specific day at a specific time, and are usually not flexible. This can be difficult for people with busy schedules. Arrangements can usually be made to send someone in your place, but if no one shows up to receive your share, the food may be donated to a local charity.
CSA Rewards
Typically CSA farms are small, independent, labor-intensive family farms. Many use organic or biodynamic farming methods to grow their crops. By creating a guaranteed market for their crops through prepaid memberships, farmers are able to focus their efforts on land stewardship and growing quality crops, which provides the following benefits to consumers:
Increased freshness of food (and less pollution) due to reduced shipping distances.
Good financial value. Over the course of 17 weeks, a $535 summer share works out to about $34 per week for a medium size box (about the size of a full paper grocery bag) of 6 to 12 fresh vegetables, fruit, and herbs - usually organic.
Shared ownership and the opportunity to develop a relationship with your food producer. Many CSAs require members to volunteer a few hours of their time each season. These are great opportunities to meet and visit with fellow CSA members and farmers, participate in a work project, and become acquainted with the land where your food is grown.
Learning opportunities. Many CSA's include a weekly newsletter with each share that provides recipes and other helpful tips for using that week's food.
CSA Risks
As any gardener knows, getting a food crop from seed to harvest involves a certain amount of risk. And although CSA farmers do what they can to minimize risks, by becoming a CSA member, you agree to share in those risks, including the possibility of a poor harvest due to bad weather, insect pests, or disease. For example, if late blight takes an unexpected toll on your CSAs tomato crop, you may receive fewer tomatoes (or lower quality tomatoes) during the season.
Is Joining a CSA Right for You?
As wonderful as they are, CSAs are not a realistic choice for everyone. Although joining a CSA will definitely encourage you to add more fruits and vegetables to your diet, food habits are hard to change. Before you commit to joining a CSA, ask yourself the following questions:
What are your food preferences? Can you and your family commit to eating as much as 20 pounds of fresh produce each week all season?
If you find yourself with excess produce each week, what will you do with it? One of the most common reason members fail to rejoin CSAs annually is the guilt they feel over wasted excess food. One way to combat this is to split the cost of a share with friends and family.
What are your expectations? Quantities in your weekly share will vary according to what is in season and the success of each crop. Expect to supplement your CSA share with other food shopping.
Are you willing to eat seasonally? Some CSAs allow members a certain amount of "mix and match", but most do not. Members do not usually have a say in what types of fruits and vegetables they receive from week to week - they get whatever is in season.
Are you willing to step out of your comfort zone and try new vegetables and fruits?
Will your schedule allow you to make regular weekly pick-ups? If necessary, are you willing to volunteer a few hours of your time?
To read more about CSAs and to find a CSA near you, visit: