Keeping Your Home Cool on Hot Days
Solutions
Share on ThriftyFunThis guide contains the following solutions. Have something to add? Please share your solution!
I have seen many hints on here about using black plastic bags over windows and glass doors to block the sun from coming in. I agree that this should work, but it makes it impossible to see outside and that's what I like. I used to use the bags, but found that I was forever cutting or tearing small holes in the plastic so that I could see. It wound up looking terrible and defeating the purpose of them being there as the sun would come in through my tears. I came up with a better solution.
I use the plastic film that is sold to use on car windows. I know it's expensive (I pay approx. $18 a roll) so I bought buying a roll or two a week until I got enough to cover all my windows and glass doors. It took a while, but now all my windows and doors are covered, and it's a lot cooler in here without blocking my view.
At the end of the season, I take a lot of cheap wax paper and scotch tape it to the plastic. Then I take a long paper towel roll (I tape several together to make the lengths I need) and roll the wax paper and plastic around the roll. Then I label each one with what window/door it went on. This way I can reuse it year after year.
Along with the plastic, I also use window blinds and room darkening curtains. It has made a world of difference in the comfort of our home, and has also brought our electric bill down by close to 50% from over $300 to about $175-185. In the winter I take down all my room darkening curtains and the film and replace them with sheer curtains. For rooms where we want privacy, I keep the blinds up, but during the day (after dressing) I raise the blinds. This way I'm letting all the sun in that I can and warming the house up naturally.
By Cricket from Parkton, NC
It's extremely HOT here in St. Louis. Today should reach 110 degrees Heat Index and we have a very old house without proper insulation (we're working on it). In the meantime I just had to do something to try and keep out the horrible heat and humidity. So I took a cheap vinyl flannel-backed tablecloth, cut small holes and thread it through the curtain rod on our back door and small back window. It worked! I was amazed how much it really helped.

By Darlene from St. Louis, MO
To keep your house comfy and save money on electricity during summertime, buy an exhaust fan that you can easily mount/dismount in one of your windows. Use two cheap thermometers, or just use your senses, to check whether outside temps are lower than inside. When outside temp is lower than inside, turn on the exhaust fan. It will expel warm air and cool air must then enter to replace it. You must have at least one other window or door open. Stand in front of it and enjoy.
I have an old natural gas furnace. The pilot light must stay lit all year around, otherwise the furnace hardware will rust and cost far more in repairs than the cost of the gas. But, it heats the house all the time too.
By tomatohanger from Canton, OH
Put a fan in front of your A/C unit in your home to spread cool air around quicker.
By naisi30 from Bassfield, MS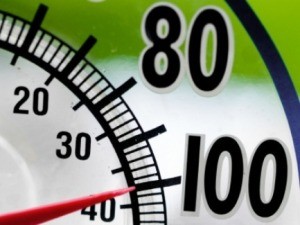 During the dog days of summer, we expend considerable amounts of energy (and dollars) trying to keep our homes cool. Here are 12 no-cost or low-cost ways to save energy while keeping cool this summer.
Cooling With Air Conditioners
1. Keep the thermostat at 78F or higher. A 78F temperature setting is reasonably comfortable and energy efficient. It can save you approximately 15% or more on cooling costs over a 72F setting.
2. Setting the thermostat to a colder than normal setting will not cool your house any faster. You'll simply overshoot the desired temperature and waste energy.
3. Turn off your air conditioner when you're going to be gone for several hours and keep solar heat out by pulling the shades and blinds. Re-cooling the house when you return will take less energy than keeping it cool while you're gone.
4. Keep lamps and other heat generating devices away from the thermostat, otherwise the thermostat may sense the heat and keep the air conditioner running longer than necessary. 5. Service your central air conditioning unit annually when you have your furnace checked for the cold season. Make sure to replace filters at least once per month.
6. Clean and vacuum the grills, coils and cooling fans on outside units and keep them clear of leaves, debris and other obstructions. Window units should fit tightly into the window's frames.
7. Avoid running the dehumidifier while the air conditioner is working. It will increase the cooling load and cause the air conditioner to work harder.
General Cool Tips
8. Keep the sun's heat out by keeping shades and blinds closed during daytime hours. Installing retractable awnings can reduce window heat gain by as much as 90% while still letting light in.
9. Create shade for your home by landscaping with trees. About half of unwanted summer heat comes from sun shining through windows. Strategically placed shade trees on the east and west sides of your home can reduce air conditioning bills by up to 25%.
11. Leave storm windows on in rooms with air conditioning and in rooms with windows that don't need to be opened. They will help keep the heat outside.
12. Create cross-ventilation. Place a fan in a window (blowing inward) on the cool side of the house. This will help push hot air outside, while it pulls cooler air in to the house.
11. Delay all heat generating activities, like using the stove and dishwasher, until the evening hours when temperatures are cooler.
Keeping Cool by Grilling Lots of Meat. I fire up my grill once a week and grill enough meat for the entire week -- hamburgers, hot dogs, chicken breasts, steaks and pork chops. . .
Read More...
September 12, 2016
1

found this helpful
This is a guide about making solar drapes. While solar drapes can ultimately save you money on your energy bills, they may be expensive to buy.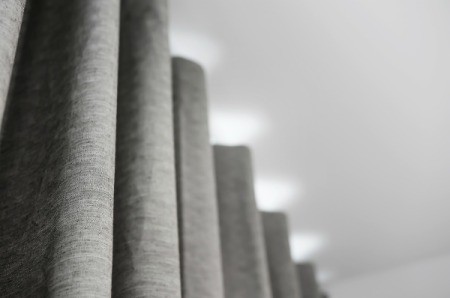 Related Content