Keeping Your Laptop Cool
Solutions
Share on ThriftyFunThis guide contains the following solutions. Have something to add? Please share your solution!
When I use my laptop on my lap, it gets very hot even with the fan running and the vents clear. Using it on the desk or table, it also gets very warm and sometimes shuts down because it over heats. It has the rubber feet on it but obviously they aren't big enough to allow for better ventilation.
While putting pans away one day, I noticed the cake cooling rack and thought it was the answer to the hot laptop. Now I use the rack under the laptop while on my lap with the legs up against the bottom of the laptop. When using it on the desk or table, the rack sets up the normal way with the legs down. It has worked like a breeze and no more shutdowns because of overheating or hot legs when using it on your lap.
By HerkDia from Baltimore, MD
Laptops get warm and can overheat. To ventilate our laptop, I am propping it up off the table with old corks! I have taped 2 together for the hot side and use one on the other side. It lifts the laptop just enough above the bottom surface to provide ventilation, and help to keep it cool. Another use for those old corks I keep saving!
By pam munro from LA, CA
I just moved. My laptop is now my main computer. Last night, I had it on for a while, on top of a wooden box with a drawer in it. I heard a 'whirring' sound. I went to check it out and felt the heat from underneath.
I grabbed some jar lids I keep handy "for times just like these" when I need something to fix something else. Sure enough, I had the same three jar lids all the same size. Putting them under the computer did the trick.
Sometimes the simplest things can save the day! N-JOY!

Hot glue things, such as a row of pencils or a medium size bead (like beaded car seats are made of) or clothespins or any other thing, to each corner of the underneath side of your laptop to give way to circulation. It can be cool rather than buying a product made especially to do the same thing.
Read More...
If you use your laptop a lot, like me, you can find your laptop getting hot. To prevent overheating, you should invest in a cooler pad/fan for your laptop.
There are tons to choose from and reasonably priced, averaging $10-15.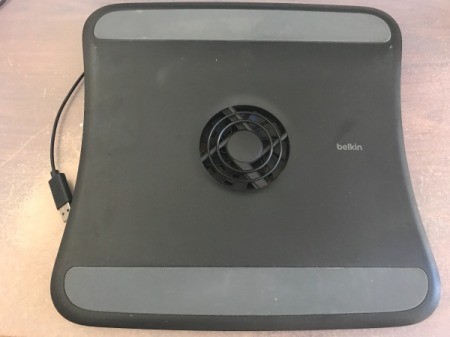 Read More...
Related Content