A friend who is a dog trainer and I were discussing my Husky who hates thunderstorms! I was advised to rub her coat down with a dryer sheet to prevent the static from building up in her coat. It was also mentioned that if you have a dog who has issues riding in the car, it could be because of the static in the car. Try rubbing them down with the dryer sheets. I did try it before a storm and she was much calmer.
By Julie from Brockton, MA
Read More Comments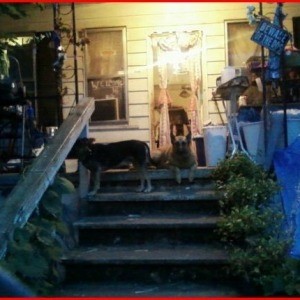 I have a very fearful adult Catahoula mix named Bruno. He is such an unusual dog. He is severely afraid of thunderstorms.
I noticed this year, that after I started not talking a lot to my dog, but using body language of calmness and patting him silently on the side of the face, while he is walking next to me in the living room toward the door, he began to expect that. He calmed down a lot.

I hand out meat treats to my dogs on occasion, or chicken quarters as a treat for our dogs, NOT cooked, or the bones will splinter.
Red meat is actually better for them, but if they are not used to it, start them off with raw chicken quarters.
One day during a storm, I happened to drop a piece of meat for him, and he forgot about the storm, and you should have seen his face. I am going to start offering meaty treats to Bruno each time it storms. I will put a towel down for him and let him eat on that and then throw it in the laundry.
Have any of you tried the raw meaty diet for your pets?
There are groups on yahoo.com devoted to teaching all about these diets I have had lots of success, but at present am only using it as a supplement.
Right now he is doing well, he is a bit grumpy, but he has been through a lot, you can read about him here on Thriftyfun. He has been on here a lot! Bruno

Blessings.
By Robyn Fed from Tri-Cities, TN