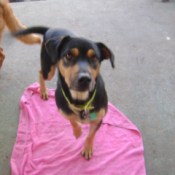 It is simple. When the dog comes up to you for petting or for attention, talk to them softly. Do what your normally do, which is to love them and tell them how good they are.
When you are through, or they seem bored, end it each time with, "Now, go lay down." This should be said in a relaxing voice. Keep it the same rhythm each time. Say it over and over again every time that you are going to end a conversation or action with your dog.
This is in fact giving the dog something to expect and also a job. It does not matter if he really goes and lays down. It is the fact of you saying it and then going on about your business. It is a nice way of saying "bye for now and go relax".
This will make your dog have much more structure during its day and especially during all the excitement of kids being home, doorbells ringing, food coming in the house, and that is a whole other post.
I will do a post later on how fried foods can kill your dog's or cat's pancreas.
If you keep on making your conversation ending predictable, this will go a long way towards helping your pet feel more in control of its environment. This will cause it to feel more relaxed. A relaxed pet is a more predictable pet and a happier pet. I should know, I have one of the more nervous pets and he has come a long way.
By Robyn Fed from Tri-Cities, TN