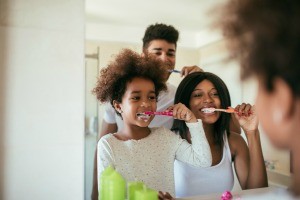 Are you sick and tired of those awful toothbrush holders that need to be cleaned out constantly? Don't they gross you out? Have you been hearing on TV how filled with germs your bathroom is? This little tip takes care of both problems.
Take a CLEAN face cloth folded into the common square, place your toothbrush inside of it, period, done. About once a week, change the face cloth to a fresh one. No drippy mess, no chance for airborne germs to fall on your favorite toothbrush. Sanitary, neat, clean, practical, easy, cheap.
By hopeful from Sometimes Oregon, sometimes Texas
Read More

Comments

We have all tried several different ways to deal with drippy toothbrushes in the bathroom. Those old icky containers with holes in the top, where the water drips down and forms a scum.
Then the ones in the medicine cabinet that cause rust on the metal. Well listen and learn from an old lady who has done them all.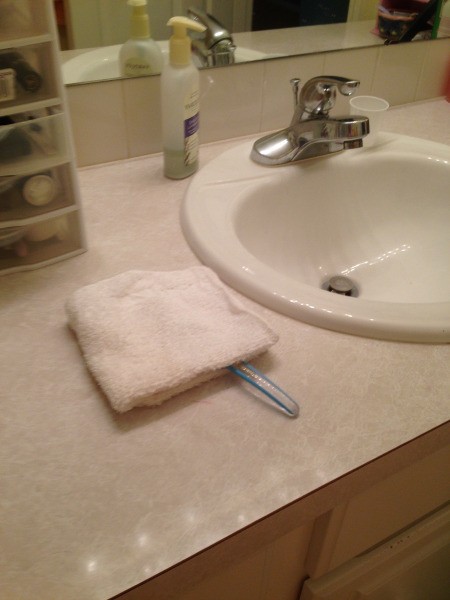 Read More...

My daughter took her and her brothers toothbrushes and used them to "scrub" her toys. I never really had to clean a toothbrush before, being that if they were old I would just throw them out. These toothbrushes are brand new. Does anybody know of how to clean them? Can I just put them in the dishwasher? Thanks so much.
Kelly
Answers

March 1, 2005
0

found this helpful
Best Answer
Hi Kelly. Well when my son brushed the cat with his toothbrush (yuck), I put his in a cup of rubbing alcohol overnight to sanitize it. Worked for us. Hope it works for you. Aren't kids wonderful. P.S. Hide your toothbrush or you'll be next ;)
By Lee-Ann (Guest Post)
March 1, 2005
0

found this helpful
Best Answer
You could boil them.
By Cheryl from Missouri (Guest Post)
March 1, 2005
0

found this helpful
Best Answer
Yes, you can put your toothbrush in the dishwasher to sanitize it. Doctors actually recommend this after someone has a cold so they don't re-infect themselves with their toothbrush.
You can also soak the toothbrush in Listerine.

Cyinda
Bronze Post Medal for All Time! 213 Posts
March 4, 2007
0

found this helpful
Best Answer
BLEACH---> Pour just enough bleach to wet the toothbrush in a small cup. Leave it in the bleach for about 1 minute, then rinse out the toothbrush well.
Pour the used bleach into the toilet & wash the cup out right away so no one drinks from the unwashed cup!
Bleach will kill any & all germs but be careful not to get any bleach on you or your clothes or it will ruin your clothes!
*** DO NOT LEAVE THE BLEACH & TOOTHBRUSH UNATTENDED! ***
-----> You don't want a child or a pet to get into it!

November 12, 2018
0

found this helpful
Best Answer
Various studies have shown bleach (NaOCl), povidone-iodine, white vinegar and hydrogen peroxide to be effective disinfectants. For example, a study found 1% NaOCl or 10% Povidone Iodine are effective disinfectants if used for at least 10 minutes, longer is better. Different studies seemed to favour different disinfectants but given sufficient time all disinfectants do their job, so just use what you have at home and leave it soaking a bit longer to make sure all the bad bugs are killed.
I like using bleach because it doesn't stain and it's easier to get hold of where I live than hydrogen peroxide, though it has a strong smell. If I could, I'd probably use hydrogen peroxide.
Answer

this Question
I keep seeing infomercial on tv for toothbrush sterilizer that claims much of the germs from sink and toilet use settle into toothbrushes, and by extension must settle on bath towels etc. Does anyone have tips on what solution to store toothbrushes?
Tjcali from California
Answers
By Mara (Guest Post)
April 29, 2004
0

found this helpful
I have heard this also but just keep your toothbrush stored away from the toilet and switch it every 3 months and you should be ok. Supposedly, when you flush the toilet the water sprays up onto counter tops and whatever is on there.So, keep everything away from the toilet and disinfect the counter top for safety.
I have also heard of people putting their toothbrush in mouthwash to disinfect.
By John (Guest Post)
April 29, 2004
0

found this helpful
I keep my toothbrush in medicine cabinet above the sink. Never even thought of splashing from the toilet, though. I am more worried about one of my daughters getting some nasty hair product on it.
By Jo Bodey (Guest Post)
April 30, 2004
0

found this helpful
Don't be sucked in by products to 'sterilize' toothbrushes tjacali - there is no such thing as a sterile toothbrush in the home, even when its from a newly opened packet! The only conceivable way a toothbrush could be contaminated with pathogens from the toilet is from your hands - which presumably you wash after using the toilet!! Neither is it necessary to sterilize a toothbrush. Our skin and mouths are teeming with bacteria but only a minute proportion are pathogenic, (able to cause disease). Rinsing your brush with hot water and leaving upright to drain/dry between use is all that is necessary.
I find it very annoying to read adverts persuading us we are not good homemakers, parents, etc., if we don't protect our families from 'germs' by buying product X to 'sterilize' our bathrooms and kitchens. Basic rules of good hygiene like handwashing and safe food preparation are all that is needed. The overuse of bacteriocidal products are breeding ever more resistant bugs. The body is perfectly able to protect itself from harmful bacteria, e.g. the acid in our stomach kills many, the skin is a natural barrier to infection, our immune system, etc. Unless you have a break in your skin integrity like a wound where bacteria can enter, a clean towel is perfectly adequate. Hang between use to dry thoroughly to reduce the harmless bacteria if you are worried.
Sorry this is so long but as you can tell I feel strongly about advertising playing on people's fears to sell more of their, possibly useless, products.

May 1, 2004
0

found this helpful
I keep my toothbrushes in a glass filled to above the bristles in a mixture of 1/3 bleach 2/3 water. This also helps kill the germs from your mouth, colds, etc. Bleach is supposed to be the ONLY thing that really kills germs. The bleach has to stay in contact for at least 5 minutes but I just leave them there until needed again. (won't eat the brush or bristles)
By Joanne (Guest Post)
May 10, 2004
0

found this helpful
I recently saw a show on TV that did an experiment on where to keep your tooth brush stored (regarding the bacteria scare that you're talking about).
They put toothbrushes all over the place in a bathroom and also out of the bathroom. The results showed that none of the toothbrushes stored inside or out of the bathroom had enough bacteria to cause any concerns.
They suggested changing your toothbrush every 3 months.
By Cheryl (Guest Post)
December 10, 2004
0

found this helpful
My husband says that using a fresh towel and wash cloth after bathing is a waste. That you can use the same towel and wash cloth for up to a week. I say he's incorrect.
By Laura (Guest Post)
January 2, 2005
0

found this helpful
I agree with Jo on this one. What will they think of next? If you are not exposed to germs, you will not have any resistance to them! There are way too many products that are anti-bacterial. Trying to find something that is just normal and not anti-bacterial in the store anymore is really getting hard. Now they are putting teflon into things! Remember the big push for PH balanced shampoo? That didn't last long. I was told that sure, it balances your hair while it's in there, but then you have to rinse it out and the PH of the water you use is the deciding factor of where your hair is left at, not the shampoo. Makes sense. Life is undated with advertising of all kinds...beware. Toothbrushes need air and to dry well, to keep them healthy.
By Derrick (Guest Post)
September 6, 2007
0

found this helpful
Yes. I have been using this for ages. I think its the most inexpensive way to store your toothbrush. And it has some pretty awesome designs, especially if you like animals.
http://www.myflipperusa.com

September 21, 2014
0

found this helpful
Keep toiLet seat lid closed, especially when you flush. Put T.brush caps/tops on them (Dont buy cheap ones- I did and wouldn't stay on) or in cabinet! I have OCD and randomly rinse all my families tooth brushes with hot water & if illness occurs right after getting new tooth brush I boil in water & sanitize um :)
But I do have OCD Lol and I do know tht being to cLean crazy can be just as bad.
Answer

this Question