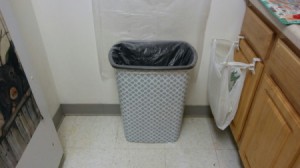 Begin by washing the garbage can with a good cleaner. I used Awesome and alcohol. I sprayed the floor around the garbage can as well. Then, of course, the wall behind the garbage can. I let it sit and got on my knees to clean the area. I then took a clear garbage bag and tacked it to the wall behind the can.
I went to wish.com and bought the holder on the cabinet. Things I need out that day are tossed in there. Like meat and stuff. You might be wondering why I used a degreaser on the can. Well to make it easier to clean in the future. For a buck, I bought contact paper to cover the garbage can. It also matches the coffee bar in the front area. See the paper is changeable as my style changes.
It's very easy to wipe clean as well. It's affordable and the style is very popular right now.
1. saves money
2. saves time
3.very stylish
The clear bag will save you from spills made as the food is tossed out. I have a lid here. I am tossing it out. I have found that I clean the lid more than the can. I am disabled that is not good for me. I might hold it in case someone needs it. But for me no more use. I can also see when the can needs changing faster.
I hope you found something you like in this post. Thank you for reading