March 3, 2017
0

found this helpful
Best Answer
You can insulate the trailer as best you can. You can also wear a hat and warm slippers. You also should dress in layers.
March 4, 2017
0

found this helpful
Best Answer
One of the ingredients of a winter emergency kit for the car is a candle: if waiting for roadside assistance and out of gas, one little candel will warm the interior of the car to help prevent frostbite. What does that tell us? If all the leaks are sealed and no warm air can escape, no cold air can enter, a small source of heat can provide a good degree of warmth.
Layers of sweaters would help of course, and blankets while sleeping, but why not look into other options? A small wood buring stove (bearing in mind you'll want to open a window when using it) might be a good choice: anyone in your area with even a small construction job would have leftover wood scraps.
March 4, 2017
0

found this helpful
Best Answer
Heaters start at 10.00 at Bimart and Walmart. You can heat an entire trailer if it's small with a radiant heater. It's the kind that looks like old radiators but use circulated oil that is very cost efficient. I have found them for as little at 6.99 at thrift stores. They are safe too as they stop working if tipped over.
You can also go to the local energy assistance agency and apply. It might take a while but in the meantime, try asking a thrift store to donate a heater. And yes, dress in layers and keep your head covered. Try an electric blanket at night too.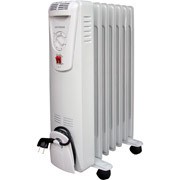 March 4, 2017
0

found this helpful
Best Answer
I do not know where you live but hopefully, winter will soon be over so maybe your need will be short term.
Hopefully you have some type of transportation or a friend to help you gather what you need.
You can go to your local Salvation Army office as they do help if there is a heater available at any of their locations. They will also provide blankets. If you Google your question with your zip code you may find several places that will help people in need.
If you attend church then that is a very good place to seek help. Seek help at any nearby church as they are usually pretty generous with help of this kind.
You can also place a free ad in your local Freecycle and Craigslist asking for help.
I have even heard of people taping/putting cardboard on their walls if insulation is a problem.
I hope you will find the help you need and that warm weather will soon be in your area.
March 3, 2017
0

found this helpful
Consider propane heaters.
March 5, 2017
0

found this helpful
I do hope you're living in the South or this is only a hunting cabin. Living anywhere else in a trailer with no heat, unless you have a wood stove, nothing is going to keep you warm. No amount of coats, hats, gloves is going to help. How can you possibly live that way?
How are you cooking? What about the water pipes freezing? Are you living in this condition alone? How are you even sending this message? You must have a computer and electric. I suggest seeking help from the Salvation Army, if one is in your area, or any assistance agency. This is insane.
March 9, 2017
0

found this helpful
You might want to check your local Target if you have one or maybe Walmart. I saw they are having 50-70% off Heaters right now and they'll be very affordable.
I also would recommend getting a warm blanket to stay warm like a down feather blanket and layer your clothes when you sleep.