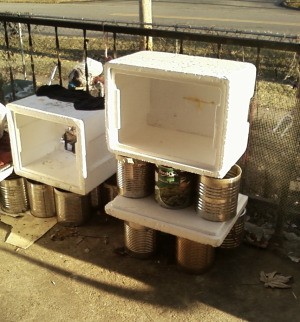 I have several recyclable things on my patio that I have turned into play areas for my cats. I get these Styrofoam boxes in the mail when my sister sends us turkeys and the fixings for holidays.
I put them on top of my huge tin cans. I use the cans to make umbrella holders and for storage and plants. These cans are holding up the Styrofoam boxes and I secured the box to the patio railing. The cats can climb and look out.
I can't let the rooster near the Styrofoam, or any puppies or kittens, as they eat the Styrofoam, which is not good. But my cats are old enough not to eat the Styrofoam. They will, however, sharpen their claws on it, which is fine, but that is the reason this is outside and not in the house.
My cats are more or less spoiled.
This tip was brought to you mainly by them: Peanut, Gizmo, Mickey, Jerry, and Whiskers!