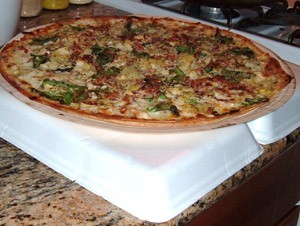 I found another use for styrofoam meat trays! I needed a nice surface to put a hot pizza on that wouldn't heat up the counter top.
These are invaluable for all kinds of things, but a hot pad was the one I thought was the most useful at the time. They are also great for under planters, draining bacon and sausage on with a paper towel or two, spoon and utensil rests when making multiple meals, and so much more.
N-JOY!
Source: My own need to keep the counters safe and clean.
By Sandi/Poor But Proud from Salem OR