Uses for Styrofoam Meat Trays
Solutions
Share on ThriftyFunThis guide contains the following solutions. Have something to add? Please share your solution!
May 29, 2009
7

found this helpful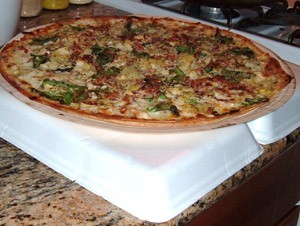 I found another use for styrofoam meat trays! I needed a nice surface to put a hot pizza on that wouldn't heat up the counter top.
These are invaluable for all kinds of things, but a hot pad was the one I thought was the most useful at the time. They are also great for under planters, draining bacon and sausage on with a paper towel or two, spoon and utensil rests when making multiple meals, and so much more.
N-JOY!
Source: My own need to keep the counters safe and clean.
By Poor But Proud from Salem OR
Archives
ThriftyFun is one of the longest running frugal living communities on the Internet. These are archives of older discussions.
December 14, 2009
0

found this helpful
My whole family loves to paint and do crafts. Someone's always making something. To help keep messes to a minimum, I save all the foam trays from the meats we buy. They're great for everything from glitter to paint to glue to sorting beads to pretty much anything else you can think of.

I even have other family members saving theirs for me.

By Sarah from Berrien Springs, MI
Answers:
Reuse Styrofoam Trays for Crafts
The trays themselves can be the craft. For instance, impressing a cookie cutter into one, you will have that figure to decorate, say for your Christmas tree. You can also make picture frames from those trays Or how about a glider airplane, which you can decorate anyway you want?
There are many other craft reuses for those Styroform trays. just a little prethought will bring more to you. REUSE TODAY AND SAVE TOMORROW (12/04/2008)

By Mr. Thrifty
Reuse Styrofoam Trays for Crafts
Just keep in mind that these trays are contaminated from the raw meat and may harbor unsafe bacteria. Most grocery stores will give you empty foam trays for little or no expense and they would be much safer. (12/05/2008)

By Dee
Reuse Styrofoam Trays for Crafts
Dee already said what I was going to say! (12/10/2008)

By Maryeileen
Reuse Styrofoam Trays for Crafts
Styrofoam trays can be used for making Christmas ornaments. My grandchildren would use cookie cutters pressed into the Styrofoam trays, to make an impression. You either snap the impressions apart or cut them with small scissors. They would then color the items and string them hang on the tree with small pieces of ribbon. Have fun with little clean up.(12/11/2008)
June 7, 2007
0

found this helpful
I'm looking for interesting uses for everyday objects like foam meat trays.

Gloria from California
Answers:
Uses for Foam Meat Trays
I've been told to be careful reusing styrofoam meat trays -- they could hold in bacteria and be passed on. Better to be safe, and throw the meat trays out and save the ones from pastries and baked goods instead. (10/12/2005)

By Carolb
Uses for Foam Meat Trays
Insulation... you check to see if you have cold air coming in around your outside wall electric light switches and electric plugins, if there is air coming in, you take the cleaned and dry meat trays and cut a piece that will fit the electric switch plate or the plugin plate and place it behind it to seal out the cold air. This will help save on your heating bill. (10/12/2005)
By Suzq
Uses for Foam Meat Trays
My kids used to use clean and dry trays to make Christmas tree decorations. (10/12/2005)

By suzq
Uses for Foam Meat Trays
I have used mine for snack trays just like you do paper plates. I always clean them in water and bleach before it use them and have never had any problems. (10/13/2005)

By COOKIEPOM
Uses for Foam Meat Trays
I used to do a lot of decorative tole painting and I used the foam trays as palettes for my paints. I could put quite a few colors on one tray and then all I had to do for clean up was to throw them away. (10/13/2005)

By Margaret
Uses for Foam Meat Trays
Use them to go under seedling trays in the spring that way if your trays leek there is no mess, that came from me mother in law. (10/13/2005)
Uses for Foam Meat Trays
Teachers usually love these trays, they use them for painting projects, sorting small items for crafts, math, whatever. Classroom teachers as well as art teachers might appreciate a donation. Be sure they are washed well & bleached. I put mine through the dishwasher if I need to reuse them for such things. Better yet is the tip of saving trays from veggies & pastries only. (10/13/2005)
By kidsNclutter
Uses for Foam Meat Trays
Find some that are the right size & put them in the bottom of your refrigerator's drawers. If you have anything in the drawer that leaks you might be able to lift out just the tray instead of removing the entire drawer to clean the mess. (10/13/2005)

By kidsNclutter
Uses for Foam Meat Trays
You can make dimensional pictures: Make several photocopies of your picture. Cut out sections of foreground, mid ground, background. Glue pieces of foam tray between the layers of your picture to add dimension. Frame the result. (10/28/2005)

By SavvySuzy
May 29, 2009
0

found this helpful
Ideas for reusing styrofoam trays that come with many cuts of meat. Post your ideas!
Answers:
Re-use Styrofoam Meat Trays
I save and re-use the styrofoam meat trays for holding a lot of my homemade candy, cookies and goodies, as gifts. Also great for Bake Sales.

I wash the trays in hot water, to which it have added a SMALL amount of Clorox and dish soap.

Rinse thoroughly and let air dry for a day. Store in large plastic bag securely closed, until needed for use. Re-rinse and dry before use.

I wrap the tray entirely with aluminum foil. Arrange the homemade goodies on them. Wrap the entire package with plastic wrap.

Cut a pretty picture from greeting card, scotch tape it to top, add a bow and gift tag.

Makes a very pretty, sturdy, free tray for your home made gifts.(10/31/2004)

By Gladys
Uses for Styrofoam Meat Trays
If you use the air dry cycle, you can wash them in the dishwasher. No worries about lurking bacteria! (10/31/2004)
Uses for Styrofoam Meat Trays
I wash the trays and use them for drying flower seeds, as saucers for small potted plants ( and large), as trays, and for drying herbs. (10/31/2004)

By seeyude
Uses for Styrofoam Meat Trays
I have a friend that paints a lot. She uses the meat trays as her palette. (11/02/2004)

By jeangnme46
Uses for Styrofoam Meat Trays
After you wash them, they can be used just like shrinky dinks. A low oven and a watchful eye turns out some pretty neat ideas. Ornaments, keychain and bracelet danglers, even gift tags. Just be sure and watch them! Plus they come in all colors. (11/04/2004)

By Paula
Uses for Styrofoam Meat Trays
I stapled foam trays to the inside of our dog's house one winter. It was sooo warm! He was full-grown, so he didn't chew on them. BTW, then I stapled overlapping denim squares to the inside of the doorway, and heavy plastic to the outside to keep out rain and snow. He loved it! (08/23/2005)

By LizCar
Uses for Styrofoam Meat Trays
Neat, although I just want to recycle mine. Does anyone know of a place that accepts styrofoam trays that have #2 on the back? I would be willing to mail them somewhere. (07/07/2007)

By Abby
Uses for Styrofoam Meat Trays
Hello. There is machine known as Styromelt that is in use in Europe. It is call the TP Series Recycling Machine in the States. It takes used uncleaned styrofoam and reduces it down by 95%. The end product is sterile an valuable. In Europe, the steel industry is using the biproduct for fuel as it burns hotter and much cleaner than coal. TP Machines are too large for personal home use but perfect for industrial, stadiums, malls, fast food, or retailers who use and throw away large amounts of styrofoam. For more info: www.teampeace.com or http://web.mac.com/tpii. Naturally I believe that every city council should have machines for use in their municipality. (10/08/2007)

By thebside
Uses for Styrofoam Meat Trays
If you have too many for you to use - most preschools would love to have your surplus for art projects for the children. Thanks. (05/11/2008)

By Theresa
Uses for Styrofoam Meat Trays
I use meat trays to hold parts, screws, nuts, washers, etc. When I'm repairing appliances so they don't get lost or mixed up with other projects that are in progress. (03/21/2009)

By Voyageur
May 29, 2009
0

found this helpful
I have saved several different colors and sizes of foam meat trays. They have been washed and bleached. Does anyone know of any crafts for kids that these could be used for?
Read More...
Related Content