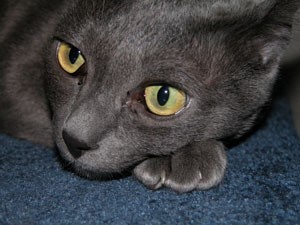 Breed Description:
The Korat is an ancient domestic breed form Thailand. It has a trim, muscular build, large, high-set ears, and a heart-shaped head featuring round over-sized eyes. The Korat has a glossy, short blue coat that feels like satin to the touch.
History & Origin: This breed is named after the province of Cao Kguyen Khorat, where the breed originated. In Thailand, the Korat is known as 'Si-Sawat,' The first of these cats were brought to the United States in the late 1800s. In order to keep this ancient breed as pure as possible, it strictly forbidden to cross a Korat with another breed. Relatively few exist today, even in their native country.
Character & Temperament: The Korat is an extremely affectionate breed with a very distinct personality. These cats love attention and become very attached to their families. They get along well with other cats, but may become jealous if family members don't treat them like the favorite. Highly intelligent, they can be taught to walk on a lead and retrieve. They are athletic jumpers and climbers and have very playful natures. The Korat has a lovely voice and uses it frequently.
Color: Blue
Coat Type: The Korat has a glossy, short coat that is smooth like satin. There is no undercoat, so the hair lies flat against the skin.
Grooming: This breed's coat can be kept in good condition with minimum effort. A gentle brushing with a soft-bristled brush once a week is sufficient. Claws should be trimmed and ears cleaned only when necessary.
Health Considerations: None known
Trivia: The Korat has been highly prized in Thailand for centuries and to own one is thought to bring good fortune.