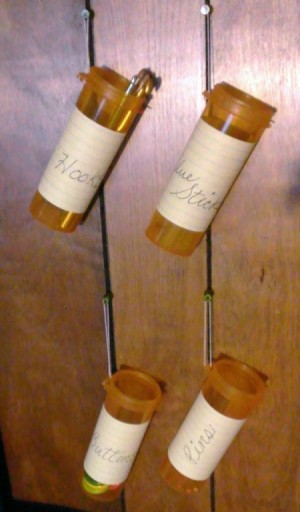 My roommate has a lot of medicine bottles and she gives them to me for my crafts. Having very little room on my table, I have learned to hang things in shoe bag hangers and the like. Today this tip if for those who don't have a ton (like someone I know...), but still want to keep things off the table.
With the little hanger on the back of the top for the lid, thread through some crochet thread or yarn. Tie a knot, trim the tails and loop them so they are hidden at the bottom.
I had adhesive left over from removing the labels so I just made a simple paper and pen cover. You can wrap it in scrap booking paper, contact paper, or wrap yarn or other fibers around it or just leave it the clear yellow color.
Nail or push pin to the wall where you need it most and it's the most handy.
Other things that might go in are beads, chenille stems, office supplies, nails, and screws...just about anything. If your items are heavier, make sure you secure the tube with something strong enough to hold it.
N-JOY!!
PBP