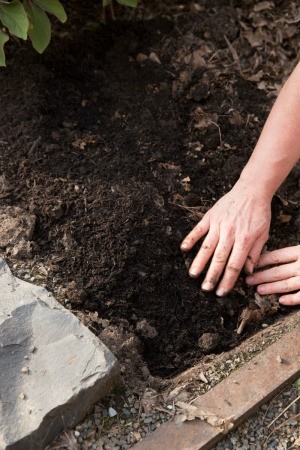 Living in the Pacific NW, gardening is wet and sloppy most of the spring. Not much gets done until the first sunny weekend when yards seem to explode in a frenzy of spring cleaning. I love to garden but it is also something that easily gets put off when I have better things to do. Better things had filled up all my fall and winter, so there were endless garden tasks that had been left undone. I had the opportunity to sit down with my favorite Garden Diva, Laura Crockett, to talk about this bustle of spring activity. She assured me that my garden would be fine with a bit of benign neglect. In fact, it would probably be healthier because of it.
Usually, people groom their yard like this: In the late fall, they will trim off the year's growth and rake up any stray leaves or branches, leaving the beds aggressively naked. This takes away nutrients and cold protection during the winter. In the spring, they will have a load of mulch delivered and use it to add the nutrients back in. This can be expensive and time consuming, and doesn't necessarily return the best soil. Laura recommends a "lazy" approach.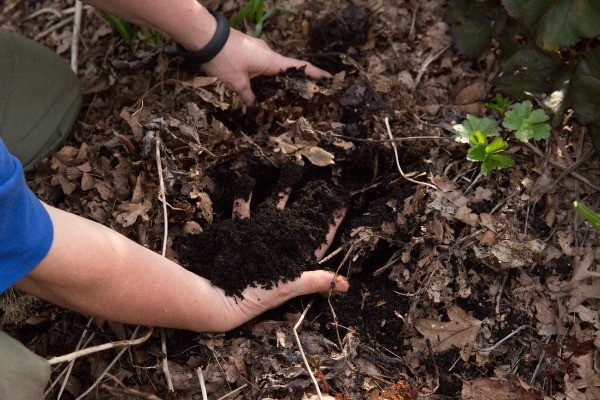 The lazy gardener is both efficient and frugal, counting on the natural cycles to take care of many chores. You may have noticed that nature isn't clean or tidy. The leaves fall down and cover the base and roots through the winter, slowly breaking down and adding nitrogen back to the soil. New growth in the spring pushes off the old brittle stems from last year. All year long, the ground is littered with petals, fruit, seed pods and leaves, the perfect recipe for healthy soil.
This point was really brought home to Laura when she volunteered to help a friend tame a yard which had been left alone for several years. She was dreading all the hard work to prepare the neglected soil. Instead she found that the dirt was loose and black, perfect for a new garden. All the years of leaves and other natural debris had broken down and amended the original garden beds. They were ready to plant anew.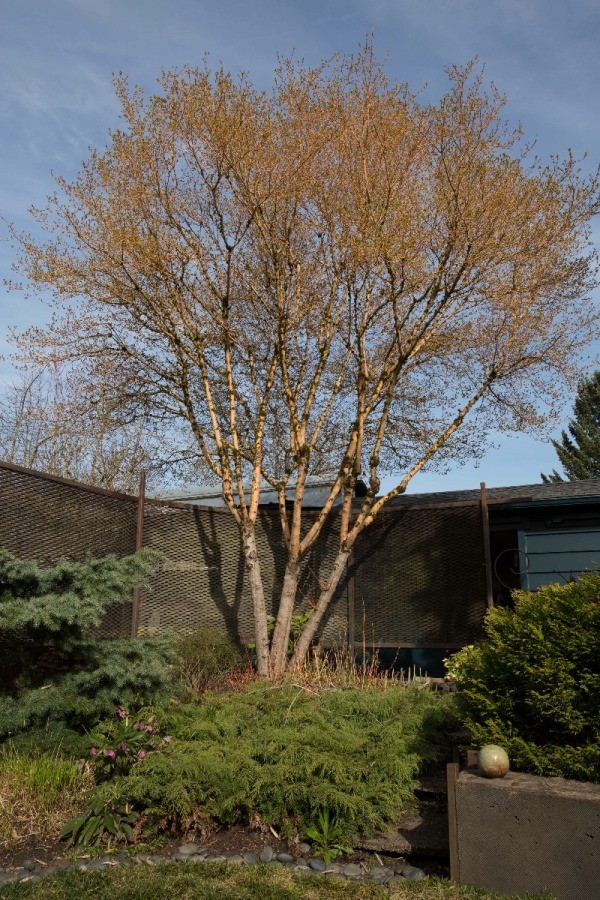 Laura says to to plan your garden beds with a shrub or small tree in the middle, something like lilac or stryax with small leaves. These leaves will drop in the fall and provide a covering through the cold season. Pick bedding plants with an eye to how their flowers and foliage will look together during the different seasons. I try to buy native plants or look for perennials from our local garden club, who have successfully grown that variety in their own garden. By all means, allow any seeds to fall in place, for new seedlings next spring.
For extra coverage, pile up leaves that fall in your yard and supplement from around your neighborhood. Laura suggests using oak leaves that have been mowed, because they will break down that much faster, and to avoid large leaves, like maple. Don't remove these leaves, they really start breaking down with the spring rains. As the weather gets warmer, just leave them to continue providing those essential nutrients for the bed.
For a neater appearance in the spring, scoop the front leaves toward the back of the bed, leaving a small bare section in the front. Dig a drainage trough along the very front edge and cover the bare section with compost. Laura equates this process to painting your nails. It presents a nicely manicured AND healthy garden bed. Your yard will not look like a magazine cover, but would you really want it to? The focus will be on the flowers and greenery, not the dirt and debris underneath.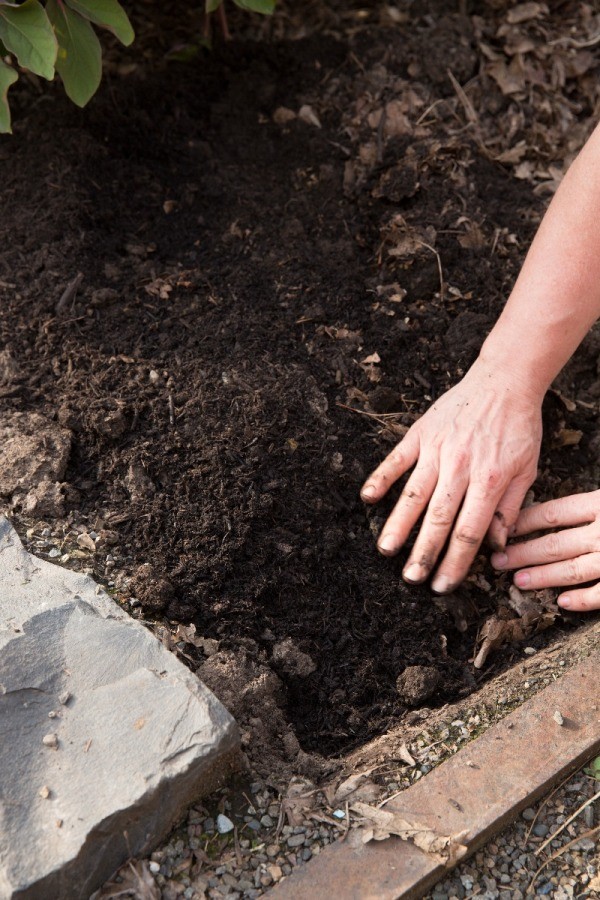 Feel free to break off old stems but don't remove them, just toss them behind that convenient shrub. Just like the leaves, they will continue breaking down and will be entirely hidden by the new leaves that are emerging. There is really no reason to remove any "yard waste" from your yard, as long as it is not diseased with something like black spot or powdery mildew. Even newly pulled weeds will feed the garden.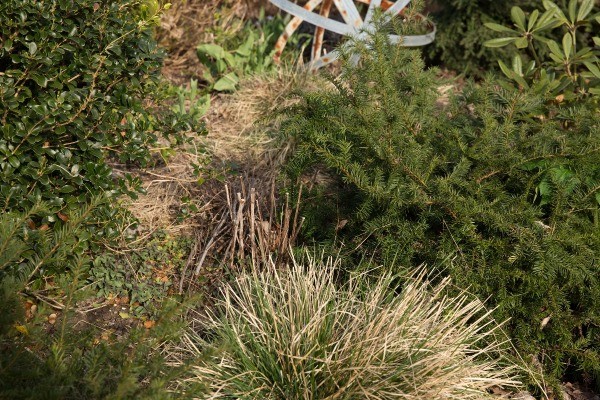 Speaking about weeds, lazy gardeners don't spend a lot of time pulling them. A well planted and healthy garden doesn't leave a lot of space for the weeds to get a foothold and they are also competing with the desirable seeds that fell from your ungroomed garden last fall. Of course, there are places that will still need occasional weed control. Rather than introducing harsh chemicals to her garden, Laura recommends just using boiling water to kill off weeds in gravel or cement cracks. For larger areas or new planting beds, try dampening a large piece of cardboard to choke out the weeds.
And as for your lawn, just don't worry about it. The typical lawn is hardly a natural system, being a monoculture and the lazy gardener should not spend too much time on keeping it that way. Laura approved of my clover and moss filled front lawn, with cheerful yellow dandelion heads peeking out of the the overlong grass. We live across from a field and gave up on them long ago, so that was welcome news indeed.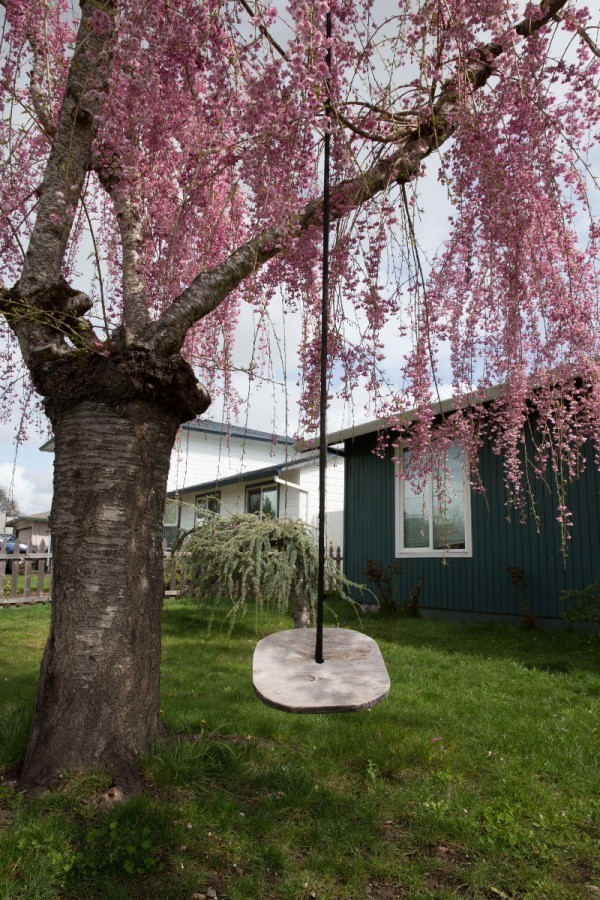 If you have any examples or photos of lazy gardening that you might like to share, send them to us or post in the feedback. Happy Gardening!
Special thanks to Laura Crockett, of Garden Diva Designs for sharing this information with me. Any errors are mine and not hers.