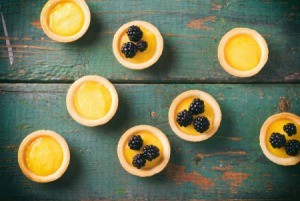 In school, one of the desserts provided was Lemon Curd tart. I loved the lemon curd that they used but cannot find it anywhere. Mass produced Mr. Kipling lemon tarts just don't do it for me, it is not the same. Anyone know what I am referring to and where I could purchase it.
Mary from Surrey, England

Answers:
Lemon Curd Tart
Might have to do with the flavor of the lemons. Since it was a school lunch, it probably came in a package and all they had to do was stir in some water for preparation. I suggest you contact the school's kitchen (if it still exists) and ask. Keep in mind that the producer of this item may have closed or changed the recipe.

This might have had MSG (mono sodium glutamate) as a flavor enhancer, so that might be what you are missing when you re-create it. (12/18/2006)

Lemon Curd Tart
Check any store that sells British or Irish food. I know there are companies/stores online just do a general search for either a British/Irish food store or lemon curd. Also some supermarkets sell British stuff in their international food section, Stop and Shop by me sells Briitish stuff (12/18/2006)

By Cindy
Lemon Curd Tart
You can actually purchase lemon curd in a jar. It's usually in the section where the pie fillings are or in the international section. My mother-in-law used to make a wonderful dessert using this lemon curd. Wish she was still with us so she could show me how to make it. Good luck! (12/18/2006)
By Angie
Lemon Curd Tart
I have these in my "must try" file. I have not used them yet, but I hope one of them is what you are looking for.

Lemon Curd
A British teatime favorite. This sweet, yet tart, velvety spread is heavenly on freshly baked scones, muffins, and tea breads.

3 to 4 Tbsp. lemon zest
1/2 cup fresh lemon juice (4 to 6 lemons)
1 1/2 cups sugar
6 Tbsp. butter
3 eggs, lightly beaten
In a medium saucepan over medium-high heat, combine lemon zest, lemon juice, and sugar. Bring just to a boil; reduce heat to medium-low and simmer 5 minutes. Add butter and stir until it has melted. Remove from heat and cool to room temperature. Beat eggs into cooled lemon mixture until well blended. Return to heat and cook over medium-low heat, stirring constantly, 10 to 15 minutes or until mixture thickens and coats spoon. Remove from heat. Store in refrigerator.
While lemon curd is typically made with butter, this is a "lighter" version I like. Serve lemon curd with scones, muffins, toast, fresh berries, or use as a tangy filling in a prebaked tart shell.
8 egg yolks, at room temperature
1 cup Granulated sugar
1 cup Fresh lemon juice (approximately 4 large lemons)
Grated zest of 2 lemons
In a stainless steel bowl or in the top of a double boiler, whisk the egg yolks and sugar together. Add the zest and whisk in the lemon juice. Set over a pot of simmering water and whisk constantly until the mixture thickens, approximately 10 minutes.

Remove from the heat and strain the mixture through a fine sieve into a glass or ceramic container. Cover with plastic wrap and refrigerate until cool.

Makes approximately four 4 oz. servings.

This is just delicious! I make lots of it for my Christmas baskets and for my craft show. Everyone loves it. It is great on toast or toasted English muffins, on gingerbread or, if you can't find anything to put it on, just eat it straight out of the jar!
Enjoy hugs, Peg

LEMON CURD
2/3 cup fresh lemon juice
3 Tbsp. finely grated lemon peel
2 cups sugar
1 cup (2 sticks) unsalted butter (NO SUBSTITUTE)
4 eggs
Mix lemon juice, grated peel, and sugar in a 2-qt. microwave-safe casserole. Add butter, cover with waxed paper and microwave on HIGH for 4-1/2 minutes--whisk--microwave for 30 seconds on HIGH--whisk. Beat eggs until frothy and blend in about 1/2 cup of hot lemon mixture. Stir back into casserole and whisk well. Cover with waxed paper and microwave on MEDIUM for 2 minutes--whisk. Microwave on MEDIUM for another 2 minutes. whisk. Microwave on MEDIUM-LOW for 1 minute-- whisk again--microwave for 1 more minute on MEDIUM-LOW--whisk- the mixture should be as thick as mayonnaise (if not, continue cooking on MEDIUM-LOW until it is). When lemon curd is done, whisk well and ladel into hot, sterilized half-pint jars. Cover and cool to room temperature, then refrigerate.
MAKES 4 HALF-PINTS.
Merry Christmas
(12/18/2006)

By Eva
Lemon Curd Tart
My English friends call it both Lemon Curd and Lemon Cheese. I live in Canada and have seen it in grocery stores with other jams and spreads. It`s quite easy to make for yourself. I do. I think I got my recipe from Recipezaar.com a couple of years ago. Hope this helps you. (12/18/2006)

Lemon Curd Tart
I make my own curd and this is the recipe from my own recipe book.
Lemon Curd
Beat 2 eggs and 2 egg yolks until frothy. Gradually beat in 1/2 cup sugar until thick and pale. Mix in 1/2 cup strained lemon juice and the grated rind of 2 lemons. Cook in a heavy saucepan over a low heat and stir constantly with a wooden spoon until the mixture thickens and coats the back of the spoon. Remove from the heat and beat in 125 g chilled unsalted butter with the wooden spoon. Place in sterilized jars and refrigerate
Variations: Instead of the lemon juice use unstrained granadilla pulp, strained lime juice or orange juice
(12/21/2006)

By Tandy