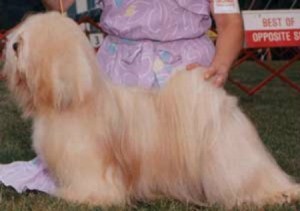 Breed Description:
The Lhasa Apso is a sturdy little dog with a profuse coat of long, floor-length hair, and a prominent beard and mustache. This breed is very friendly and loyal to his owner and other family members. It has an acute sense of hearing and makes and excellent watch dog.
Group: Non-Sporting group.
Purpose of Breed: Companion and Guard in Monasteries
Country of Origin: Tibet
Average Size: Ranges from 10 to 11 inches and 13 to 15 pounds.
Color(s): Typically black, white, brown, gray, cream or parti-colored.
Coat Type: Coats are heavy, straight, dense and long flowing without being woolly or silky. Regular grooming is essential to keep the Lhasa Apso's coat from tangling.
Grooming: The coat of the Lhasa Apso needs brushing and combing daily to keep it tangle-free. This breed requires standard care for the ears, pads and nails. Eyes need frequent cleaning to prevent obstruction of tear ducts.
Exercise Needs: This breed is active indoors and is suitable for apartment living providing it gets a moderate amount of exercise daily.
Temperament: The Lhasa Apso is gentle, friendly and loyal. This intelligent dog has an acute sense of hearing and was bred to be naturally wary of stranger. It makes an excellent watchdog. The Lhasa Apso dislikes being left alone and prefers the security of a routine. This assertive breed considers himself a "big dog" in a little body. They can be a bit stubborn at times, but make a loving and loyal family pet.
Common Ailments: Susceptible to hip dysplasia and skin, kidney and eye problems
Life Expectancy: Averages 12-14 years.
Trivia: In Tibetan monasteries and palaces the Lhasa Apso served as an indoor guard, while a larger dog, like the Mastiff, stood guard outside.
More Information: American Lhasa Apso Club, Inc.