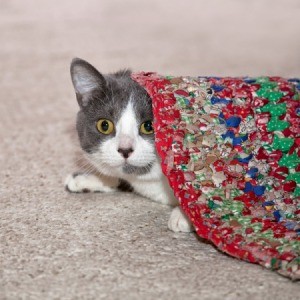 If your cat or dog pees on the floor or shelf, take some peroxide and baking soda. Mix it and spray it on the spot where they pee and it will turn white. That's where they peed.
Source: a friend that deals with stray cats that are rescued in a shelter
Read More

Comments
There is the terrible odor in my house and garage. I have caught the cat peeing in the past. When we returned from vacation it smells terrible. How do I find out where the cat has sprayed or is peeing?
Anne from Oceanside, CA
Answers

January 3, 2007
0

found this helpful
buy an inexpensive black light; when the stain is found pour white vinegar on the spot, later wash down (garage floor) if on carpet, spray the vinegar etc. you may have to do this a couple of times. we have seven cats so i know it works!! lol
By Ingrid (Guest Post)
January 4, 2007
0

found this helpful
A helpful site that I found re peeing and how black lights work: www.catfaeries.com. Their info reads: Even if you are not a professional Crime Scene Investigator, you can easily use our black light to find every urine stain in your home, so you will know where you need to clean with Anti Icky Poo and where to apply Feliway Spray.
It's simple to use and fun too! When it's night, turn out the lights and shine your black light everywhere - floors, baseboards, walls, doors, in closets, under and on the bed, virtually all over the house. Urine stains will glow in the dark. Cat vomit will also glow, but after you've seen a few of each stains, you'll be able to tell by the splatter which is which (just like on CSI!). The black light also detects dog urine.
Once you know where the urine is, you'll know where to use your Anti Icky Poo, your Feliway spray, and which rooms need Comfort Zone for Cats plug-ins. This full set of products are the keys to making your cat and you happy by ending the spraying and inappropriate urinating. They will also help you to have a tranquil and pretty smelling house once again.
By Michawn (Guest Post)
January 4, 2007
0

found this helpful
Yep, I saw the black lights at PetSmart, will lead you right there.
By Judy Corkill (Guest Post)
January 4, 2007
0

found this helpful
We had this problem in one of our rentals and I can tell you what worked for us. we first shampooed the carpet with 1/2 vinegar and 1/2 water. no shampoo, just vinegar and water. Let that dry. Then spread baking soda all over the carpet and spray with peroxide. We used one gallon of peroxide per room and 4 boxes of baking soda per room. You use a broom to kinda mix the peroxide and baking soda together. Work it into the carpet. let dry and then vacuum. It took the odor away. We also had to wash the base boards and spray the base boards with peroxide.
Good Luck.
Judy
By Paula Jo Carr, Mebane NC USA (Guest Post)
January 4, 2007
0

found this helpful
Get a black light & use it. The cat pee will show up UNDER THE BLACK LIGHT SHINING ON IT then. I have used this myself and it worked wonders.
You can get a black light at any pet store for about $20 - $30 bucks ~ good luck!

January 6, 2007
0

found this helpful
Hi, About the cat pee stains . . . a service man from one of the country's leading carpet cleaning companies mentioned that a black light could detect the cat pee. I suppose it illuminates with the black light? Try it, it could work and solve your problem.
Wishing you the best,
Satellite
By Red Neck (Guest Post)
October 23, 2008
0

found this helpful
Pet store black lights tend to be both expensive and feeble. Go to a discount store like a Wal Mart and get a compact fluorescent black light (screw shaped bulb). It will work in any 120 volt lamp that a conventional bulb will screw into. They're sometimes sold as Halloween decor or as party bulbs. Be sure to get the screw shaped compact fluorescent bulb and not the (worthless) rounded incandescent bulb.
Answer

this Question

What ia a blacklight? How do you use it to find urine markings by a tomcat?
Answers

May 14, 2015
0

found this helpful
A blacklight is also called a UV or ultraviolet light. To detect urine stains, shine the light close to the walls and floor in a darkened room. The urine stains will glow.

April 28, 2019
0

found this helpful
I think you can use one of those bug zapper lights too idk thou for sure.

April 28, 2019
0

found this helpful
I think you can use one of those bug zapper lights too idk thou for sure.
Answer

this Question