Lola is our 4 year old Boxer. She was rescued from a single mom who could not take care of her and her two kids after the husband left her. Lola was in a kennel all day and then most of the evening because she was so "FULL OF ENERGY!" Now she is still full of energy, but she has lots of room to run and play all day and all night!
She likes to carry a shoe in her mouth and kick a wiffle ball around the house. Seriously, she does this all by herself!
She is the most wonderful dog in the world. Kind, gentle, fun-loving and full of life. She is wonderful with our 18 month old, too!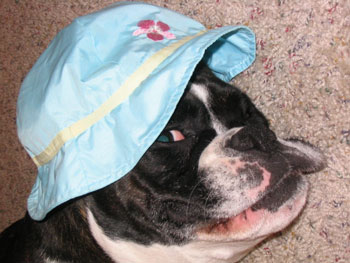 By Carrie Nowlin from Okemos MI
Answers:
Lola (Boxer)
Good for you for rescuing. That's a great photo. (07/18/2006)

By Vic
Lola (Boxer)
Boxers are so much fun, we have had four of them. They love flattened basketballs to throw around also, the first time my husband came home from work in the middle of the night and our big guy didn't meet him at the gate with his ball in his mouth we knew something was wrong. We lost him within a week vet thought most likely a brain tumor. (07/18/2006)

By
Lola (Boxer)
What a fabulous photo. That cute and funny face put a huge smile on my face. Hugs to Lola! :o) (07/20/2006)

By