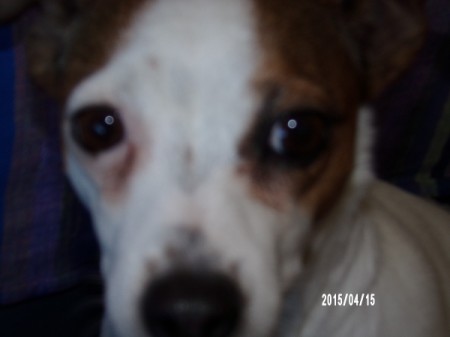 Your Pet's Age
5
Your Pet's Breed
Toy Fox Terrier/Chihuahua Mix
How and when did you get your pet?
I got Lucy in October of 2013. My friend's sister got Lucy as a puppy. About the time that Lucy turned 3 or 3 1/2 yrs old, she was put outside permanently, she lived on a ranch up in high desert country in Northern California, because she was a "little dog" and her owner's husband said he "hated little dogs". A few months later, he told Lucy's owner that if she didn't get rid of Lucy, he was "going to take her up the hill and put a bullet in her head". He said she was useless because she's a "little dog". I was told that he would actually kick her like a football out the front door if he found her inside the house. How could anyone treat any animal like that? When my friend told me about Lucy, I cried. He took me up to see her and I fell in love with her right away. She was so sweet and came right up to me wagging her tail. She had been injured in a fight with another dog on the ranch (the red mark in the corner of her eye) and she had to compete for food with the dog that attacked her and 6 or 7, 12 week old puppies. She was so "beaten down" emotionally and physically that she didn't have any confidence at all. But, she was still happy to see anyone who visited the ranch. I decided that I was not going to allow this poor sweet little girl to go thru that anymore. I took her home and brought her into my room. She and Karma (my seal point Siamese) met for the first time. They touched noses and then Karma rubbed up against her as if to give her approval! I called Lucy over and let her jump up on the bed, she looked confused at first. Once she realized that I was inviting her to sleep in the bed with me and Karma, she jumped up and immediately laid flat on her tummy, all 4 legs out! (lol) She let out a big sigh and melted into the bed! She's been a cuddle bug with us ever since. She's been very slow to come out of her shell, but just recently she's actually joined in the play time activities with Lil Bit. She's still not sure quite how to play, but we are working on it.
What does your pet like to do for fun?
Lucy loves to go for walks and rides in the car. But her absolute favorite thing to do, is lay next to a warm lap (my boyfriend's must be the best because that's where you can find her 24/7!) or curled up under the blankets next to her daddy at night.

Do you have anything else to share about your pet?
Lucy was physically, emotionally, and verbally abused for God know's how long, but despite all of that torture, she is so loving and mellow. She's very sweet and has become Daddy's girl despite the hell that other man put her through! A true testament to a dog's heart and ability to love.
Add your voice! Click below to comment. ThriftyFun is powered by your wisdom!
July 3, 2015
0

found this helpful
Thank you for rescuing this precious little one! Anyone who abuses animals should suffer the same fate as they put the animal thru.
July 4, 2015
0

found this helpful
So glad you gave her a home. I would be worried about your friend. A person who abuses helpless animals will have no qualms abusing a human being. That man isn't worth having around.
July 6, 2015
0

found this helpful
Thank you for all of the responses. I agree totally with you all. I do not have contact with those people anymore and I don't plan on future contact ever again.
Add your voice! Click below to comment. ThriftyFun is powered by your wisdom!