March 29, 2013
0

found this helpful
Supplies: Hot glue gun and glue sticks, Bleach bottle or any strong plastic bottle, Styrofoam ball (large), Bunny ear headband, Doll face or rabbit face (very hard to find I am using my originals from the 60s), Pipe cleaners cut into 1 inch pieces, a few rolls of cellophane wrapping paper cut into 2X3 inch squares, 1 inch pompoms, 3 inch pompom for tail, accessories to decorate with flowers, birds etc.
Directions: first cut the hole in the bottle where you want the opening, then Hot glue the Styrofoam ball firmly to the top pressing down. Glue on headband, glue on face, Take each square of cellophane and fold it like a bowtie then take a pipe cleaner and twist it in the middle of cellophane.
After you have your cellophane pieces ready begin gluing them into the Styrofoam head or you can use the pompoms for the head, Then glue the cellophane pieces directly to the bottle. After all cellophane is glued in place you can take scissors and trim cellophane to look nice. I hope this helps.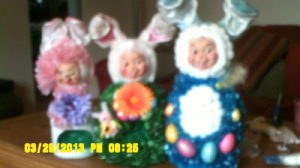 April 4, 2022
0

found this helpful
My Grand-Moma made Easter Bunnies from a Clorox Jug.
The material are as followed:
(1.)Empty Clorox Jug (2.)Cotton Balls (3.)Glue (4.)Pink Velcro for the ears (5.)Plastic 's
(6.) Scissors to cut a hole above the handle. (7.)imitation grass (8.)plasticeggs
Hmmm, I regret not inheriting her crafty skills but I will always cherish Family Legacies