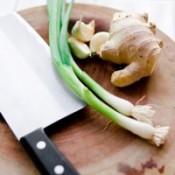 Some of the main ingredients in Chinese Food are ginger, garlic, and sesame oil. These are the odors you smell when you walk into a Chinese Buffet. Here are a few tips to getting a better flavor out of your Chinese cooking.
Always use raw ginger or garlic, but this does not mean it has to be fresh. Put both roots in the freezer if you don't use them every time you cook.
The ginger will grate into finer powder than when it is fresh. You don't have to worry about cleaning the fibers out your fine grater. They will just grate with everything else. The frozen garlic will peel easier. But I buy the minced kind in a jar you can get at Walmart. It is ready to go and lasts for weeks in the refrigerator.
When making stir fry, heat your oil and then put in the ginger and garlic. This will cause these flavors to spread more evenly into the stir fry recipe. You might think it doesn't make a difference but it does.
Sesame oil is expensive so use it as an enhancer. Add a tablespoon to a cup of regular salad oil for frying. Drizzle it over the whole recipe just before serving. Stir into the mixture if you have picky guests that might say it looks like the whole thing is swimming in oil. It really makes fried rice have a good flavor.
Source: From my simple little brain
By Tim Lawson from Science Hill, KY
Read More

Comments
Has anyone had any success making Chinese food that tastes like what they make at restaurants? I have tried some recipes but it is never quite the same. What's the secret? Any recipes or tips would be great.
Thanks,
Diane
Answers

March 29, 2007
0

found this helpful
According to a Chinese friend that owns a restaurant, the reason is that you can't heat the wok to the same high temps that they use in the restaurants. They cook nothing at home because of this very reason. They do all their cooking at the restaurant. Your typical stove at home just won't work!

March 30, 2007
0

found this helpful
I have an old paperback cookbook that has recipes for the foods you typically order in a Chinese restaurant. It separates the recipes in order of difficulty and tells you what you can substitute for the Chinese ingredients and also what you would you need to go buy at a Chinese grocery store.
We have made a number of recipes from the book and they turn out quite close to how they should taste. Unfortunately since I'm not at home at the moment I will have to post the name of the book and author later today.

Carrie
Bronze Feedback Medal for All Time! 174 Feedbacks
March 30, 2007
0

found this helpful
Well, if you checked out the calorie count in most Chinese restaurant dishes, you wouldn't worry so much.
O.

March 30, 2007
0

found this helpful
I make many of my own versions of Chinese foods simply because I have a friend that works as a Restaurant Food Inspector and she highly recommends NOT going to any Chinese restaurant in our county! My family seems to like all the things I make just as well or better than most of the Chinese restaurants anyway.
There is a Stir Fry mix you can buy in some grocery stores (including Publix & Walmart). It is a powder mix that is sold under the name of "Produce Partners"; I use this package and add a little of my own touches...I add Soy Sauce and a bit of Splenda. When I make the Stir Fry, I typically use only the veggies my family will eat: i.e. green & red peppers, fresh mushrooms, onions, Pork, Chicken and Beef strips and 2 or 3 of these seasoning packets. I usually serve this over Brown Rice or even a Rice-A-Roni blend. There are usually no leftovers on Stir Fry night!
God Bless!
Sheila in Titusville, FL

Holly
Silver Post Medal for All Time! 364 Posts
March 30, 2007
0

found this helpful
I know that one particular chinese restaurant uses Maggi seasoning. I was given a recipe and tried it with and without the Maggi. Yep, that made all the difference.
However, Maggi is MSG (something I'd like to avoid).
--------
Also, please notice that chinese restaurants aren't using long grain white rice (like Minute Brand rice) that is commonly found in standard american grocery stores.
Go to an asian grocery or in the asian grocery aisle and check out the bags of rice on the shelves. Resolve to cook rice in a steamer and notice the difference.
I have added a picture of the Cuisinart rice cooker. It's not necessarily the best and there are certainly less expensive models (try Target and Wal-Mart). What I don't like is that they are teflon coated and aluminum. If you find one that isn't made with these substances, post the info here, please!
I saw one on a vegetarian site years ago for more than my budget would then allow and although I saved the info, the computer developed a virus and it wasn't backed up all the way. That's why I am requesting this info!

By Doggy (Guest Post)
March 30, 2007
0

found this helpful
I have to differ with 'Cookwie'. Maggi (liquid seasoning, I'm copying directly from my bottle) is comprised of Water, hydrolyzed corn gluten, soy protein, salt and artificial flavor. MSG is short for monosodium glutamate which makes the tastebuds more sensitive, rather than seasoning the food.
I've found that a good brand of sesame oil (added last to most things) makes a big difference in authenticity. Use peanut oil (most Chinese restaurants do) and a freshly ground pepper. Ginger means fresh ginger, not ginger powder.
Jasmine rice is a good accompaniment. Substituting American long grain rice won't give you the same results.
Very much like American cooking, the same dish can be interpreted in many ways. There must be a million variations to meatloaf. The same is true with most stirfry dishes (Wok fried with a gravy especially)
Most local Chinese restaurants serve something closer to fusion foods. If you're looking for authentic, a good barometer is to chose restaurants where you see a good percentage of Chinese customers.

March 30, 2007
0

found this helpful
Here is a recipe for chicken fried rice that is equal to or better than any Chinese Restaurant.
It may seem like a long recipe, but once you have made it a couple of times it is easy. The rice and the chicken can be cooked the day before and the vegetables can be chopped.
Chicken Fried Rice
3/4 cup onion,chopped
2 1/2 tbs oil, divided
1 egg
3 drops soya sauce
3 drops sesame oil
8 oz chicken, cooked and chopped into small pieces
1/2cup carrots, chopped small. (opt)
1/2cup peas
4 cups cooked rice (cold)
4 green onions, chopped
2 tbs. soya sauce
Stir fry the onions in 1 tbs oil over medium-low heat till golden, this will take @ 8 minutes.* and remove from the pan.
Mix the egg, soya sauce and the sesame oil
Add the 1/2 tbs oil to the pan and pour in the egg mixture and swirl the pan so the egg covers the bottom and sides
Cook till the egg is puffy, turn and cook the other side briefly. Remove and chop fine.
Heat the last tbs oil add the chicken, carrots, peas and cooked onions. Stir fry @2 minutes
Add the rice,green onion and mix.Stir fry @ 3 minutes
Add the 2 tbs soya sauce and the egg mixture
Stir to mix and serve.
*Don't rush this part, this is what gives most of the flavor.If you have had onions from a fair or carnival thats what they will look and smell like.
Good luck, its worth the effort.

Holly
Silver Post Medal for All Time! 364 Posts
March 30, 2007
0

found this helpful
Hydrolyzed corn will give the same effects as MSG!
Hydrolyzed anything will give the same effects as MSG!
By Lynda (Guest Post)
March 31, 2007
0

found this helpful
ALERT!!! MSG causes brain cancer, Migraines, Alzheimers,and a host of other serious diseases/disorders, and does NOT enhance food. This was a TV special within a month ago. Toss it and forget all about it EVER!!
God bless you. : )
By Beth (Guest Post)
April 1, 2007
0

found this helpful
Cook some egg noodles and then marinade them in a couple of tablespoons of soy sauce, then stir fry with a little oil and some chopped vegetables (onion, celery, beansprouts, carrot and water chestnut are great with this). I always find it's the soy sauce that makes all the difference

April 2, 2007
0

found this helpful
The cookbook I mentioned previously is called The Pleasures of Chinese Cooking by Grace Zia Chu. It not only explains the Chinese vegetables but the various kinds of teas, the different methods of cooking and the substitutions you can make for the Chinese ingredients. My book is old; I've had it forever but I'm sure there are still copies around.

April 5, 2007
0

found this helpful
Here is a recipe I have been using for years. I always get compliments when I serve it.
Fried Rice
6 slices bacon, 2/3 cup long grain uncooked rice,sliced mushrooms(I sometimes leave out),2 1/2 ounce can,1/2 cup Green onions with tops, sliced,1 cup chopped celery, 10 1/2 ozs. chicken broth, 1/8 tsp. pepper,1 Tbs Soy Sauce and 1 egg beaten
Fry bacon until crisp; drain on paper towel. Save 1/4 cup bacon drippings in frypan. Add rice; brown lightly.....Drain mushroons ( save liquid). Add mushrooms and vegetables to rice. Cook until rice is well browned and vegetables are tender....Add liquid from mushrooms, broth, and pepper. Bring to a boil. Reduce heat, cover tightly, and cook slowly for 20 to 25 minutes, or until rice is tender and liquid is absorbed. Stir in Soy sauce.....Make a whole in center of vegetable-rice mixture.Pour in beaten egg. Let egg partially cook, then stir it into mixture. Continue cooking until egg is cooked.Remove from heat.....Crumble bacon over the mixture.Serve at once. 6 servingsl, about 1/2 cup each.
Hope you try it and like it. Judy from Alabama

May 2, 2007
0

found this helpful
Try Vietnamese food, you will be glad you did. It is kind of like Chinese food but with a French touch as well. I love Chinese or pretty much any Asian sort of cooking, but the Vietnamese have got it down. Go to asiarecipe.com and you will find a vast array of recipes, listed by country.
And if you are ever in Atlanta, GA, be sure to check out Chi Gio. They have some really great food.

September 28, 2007
0

found this helpful
I have tons of very good Chinese cookbooks being I collect them. Living in Hawaii we eat Chinese food all the time. Email me and I will be glad to help you.
Answer

this Question