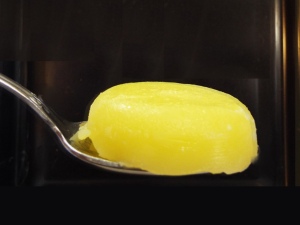 There is clarified butter, and then there is ghe or ghee. They are not the same. Clarified butter, or 'drawn butter', as it was called in times past, is the simpler to prepare of the two. It can be used many ways, including sauteeing steaks, as a dip or dressing for lobster, and as I have recently learned, as an excellent oil for popping corn. Essentially, it is regular butter with the milk solids and water removed.
Ghee, from the Sanskrit word 'ghri' (meaning to sprinkle), takes longer to prepare, involves more steps in the making, and the resulting product is far more stable, both on the shelf and refrigerated. Ghee has more concentrated flavors which are often described as 'nutty'. These nutty flavors are brought about by the browning of the milk solids before they are removed from the butter fat. Ghee is most often used in the preparation of Indian and Southern Asian cuisine.
Since I discovered how much better popcorn tastes when popped in clarified butter, I have done some experimenting to find the easiest way to prepare the butter. Some people who fry with butter, add an amount of Crisco or other fat to increase the butter's smoking point. When they see how easy it is to clarify butter, I think they will use that and not adulterate their butter's taste with other fats.
Clarified butter can be made in any amount. For the purpose of popping enough corn for one or two servings, I use one stick. This yields enough butter for popping the corn, drizzling a good amount over the popped corn, and unless you like your corn heavy with butter, there will be a tablespoon or two left for some other purpose.
When butter is melted, it separates into three layers. The top layer is milk solids. It is these solids that burn when heated to over 350 degrees. The bottom layer is water, whitish in color. This water must be removed also before using the butter for high temperature sauteeing or popping corn.
I think a lot of people would like to try clarified butter but think it too much trouble to make. That is why I experimented to find the easiest way for me, and I hope for you.
I do hope these little tips will encourage someone who thought clarifying butter too time consuming, to give it a try. Your popcorn will thank you. And your omelette. And your pan fried steak. And so on.