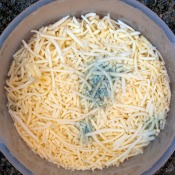 If you are like me and prefer to purchase a "chunk" of cheese instead of already shredded cheese, this tip is for you. This is something I discovered on my own. Years ago, I would wipe down every surface I could get to on our sailboat (inside), before leaving it after a weekend out, with plain old vinegar.
Vinegar retards the growth of mold. When we would return, the boat still was fresh. After finding mold on a chunk of cheese I decided to try a little experiment. I took a paper towel and folded it down to about a 2 x 2 inch square. I then dampened the paper towel with vinegar. Barely damp, just enough that you can tell it is damp. I then wrapped my cheese in the paper towel and placed inside a Ziploc bag and returned to the refrigerator.
I have never had cheese mold on me again and I have not wasted a bite. If your paper towel begins to dry out, all that you need to do is to redampen the towel with vinegar. The small amount that you are using doesn't leave a vinegar taste to the cheese. Buying cheese in "chunks" is cheaper than the already shredded and will save you a bit of money in addition to no more moldy cheese. Cheese will last for weeks stored this way. Hope you will give this a try because it certainly does work.
By Trish from Chatom, AL
Read More

Comments
I buy 5 lb. bags of shredded mozzarella cheese because my family makes pizza on a regular basis. However, once the bag is opened, it tends to begin to mold fairly quickly. Has anyone used a variation of this vinegar method with shredded cheese? If this doesn't work, does anyone have a suggestion?
By rcraftlady from East Coast
Answers

November 12, 2016
4

found this helpful
Best Answer
Once the bag of cheese is open be sure no one sticks fingers in to get out a handful. I instruct the family to use a long handled iced tea spoon.
This has helped immensely. I'm going to add the vinegar dampened paper towel too now.
Answer

this Question

How do I keep grated Parmesan cheese from molding?
Answers

suz1230
Silver Feedback Medal for All Time! 451 Feedbacks
January 16, 2019
3

found this helpful
Most semi hard and hard cheeses freeze very well in the freezer, that way they can't grow mold as they will in the frig after a couple of weeks. Cheeses like Romano, Parmesan, things like that, even Cheddar freeze great until you're ready to use them again.

Hello
Bronze Post Medal for All Time! 107 Posts
January 16, 2019
1

found this helpful
I'm not sure why your cheese is moulding if you're keeping it in the fridge. Parmesan should be stored in the fridge if it will not be used up within a week.
Maybe your fridge is not cool enough>?

15mhhm15
Diamond Post Medal for All Time! 1,298 Posts
January 16, 2019
1

found this helpful
Make sure to keep the grated cheese in a sealed container. You can also put grated parmesan in the freezer for longer lasting.

Judy
Gold Post Medal for All Time! 677 Posts
January 17, 2019
2

found this helpful
I keep mine in an airtight container in the refrigerator.

August 2, 2019
1

found this helpful
I use it straight from the freezer. Especially my mozzarella and Parmesans :)

Myrna
Bronze Feedback Medal for All Time! 168 Feedbacks
October 7, 2019
1

found this helpful
I too use this method of storing my grated cheese and it works great. Just remove it from freezer a few minutes before using, so it's easier to take amount needed.
Glad you posted this idea.

May 20, 2020
2

found this helpful
Keep your fingers OFF the cheese.. I use anything except my fingers to remove cheese from its wrapper or bag.. since I have done this I never get mold on any of my cheese.. this has been for 5 years now...when I want to grate a block of cheese I hold the block with the wrapper or a paper towel.

March 20, 2022
1

found this helpful
These are all great tips! But many years ago I purchase a FoodSaver machine. Sealing a block of cheese in a food saver bag will last for months and months. Grated cheese will last weeks to months in a food saver container which the air can be removed from using the FS machine.
It vacuum seals bags and containers.

June 27, 2022
0

found this helpful
Put your 5# bag of mozzarella in 5 sandwich bags..freeze 4 of them while using the 5th one..doesnt take long at all to thaw.

August 22, 2022
0

found this helpful
This what I have done for years. We are big cheese lovers, so I buy the big bag of shredded cheeses. Empty the cheeses into smaller ziplic bags and freeze all but one. I also freeze my American slices even though it says on the big box do not freeze. I have never had an issue freezing the slices either.

August 26, 2022
0

found this helpful
That is a good tip. I learned that a long time ago from a co-worker, and she learned the vinegar solution from Tillamook Cheese company

August 31, 2022
0

found this helpful
I shop at Costco, I measure out one cup of Shredded Cheese into snack size ziploc baggies and put all the baggies back into the original cheese bag and seal.
I do the same with a bag of Bacon Crumbles, in 1/4 cup measurements into snack bags. Perfect for our use.
Read More

Answers