Making Ghee
Solutions
Share on ThriftyFunThis page contains the following solutions. Have something to add? Please share your solution!
This is one of those simple recipes that enhance many meals with its richness. In Sanskrit, it is known as ghee and used in many recipes in the Middle East/South Asia. Sometimes we just don't get around to trying something new to us, because we think it will just be too complicated to do for such a small amount needed. I am definitely guilty of that with this one. With this recipe you make a large batch, and freeze the extra for future use, and it turned out not to be as difficult or time consuming as I thought it would be ;-)
Ingredients:
Directions:
Melt butter over medium high heat in a saucepan; skim the foam off of the top layer with a spoon, discarding the foam, and cool slightly. You will know the butter is ready when the milky solids sink to the bottom and the butter oil on top is lightly golden and clear. Pour or spoon off the butter oil from the solids and discard solids. You now have drawn butter.
By Deeli from Richland, WA
Ghee is the pure butter oil, minus the water/butterfat and is credited for being healthier to use in cooking. It is pretty expensive to buy but oh so inexpensive to make!
Total Time: 30 minutes, including wait time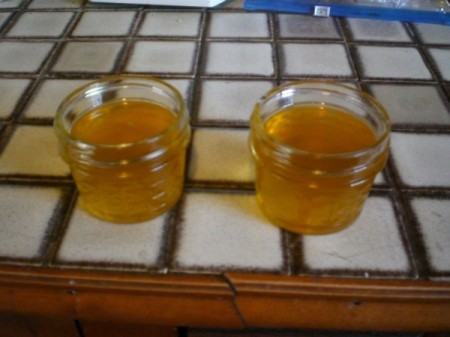 Ingredients:
2 sticks organic, unsalted butter
cheesecloth
HEATPROOF jars
Steps:
Cut up two sticks of organic, unsalted butter in a heavy weight pan and place on stove on "low".
Allow them to melt and then bubble. They may get a foamy head on top, which you can skim off with a "dry" spoon.
Be patient and let it boil, stirring occasionally and not letting it burn. Mine took about 10 to 12 minutes.
There is a test you can do to check for remaining moisture in your ghee. Take a "tiny" piece of paper towel, drop a small drop of ghee on it and light it on fire. If it snaps or crackles, it still has some water in the ghee and you should continue cooking a bit longer.
Once it is ready (there will be some light brown bits on the bottom of the pan), turn off the heat and let it cool for a few minutes.
Then place some cheesecloth over your "heatproof" jar (I used a rubber band to hold it in place) and slowly pour the ghee into the container/s.
Ghee doesn't need to be refrigerated and adds a rich, delicious flavor to everything you cook!
Heat is generally used to separate the milk solids and water from the butterfat to make clarified butter. This is a page about making clarified butter.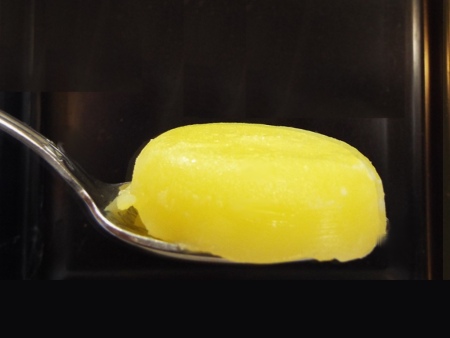 Categories
Pages
More
Categories