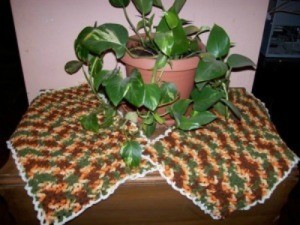 These placemats will be perfect from September to November. The bright clean fall colors will go great with any natural centerpieces or you can find beautiful silk mums and fall leaves this time of year. I have a centerpiece I made that I bring out this time of year that is a silver apple bowl filled with mums and daisies and has a cute dollar store scarecrow stuck in the center. Even just a bowl of apples for a centerpiece would be nice. I hope you enjoy making these as much as I did. It is a very simple pattern that works up very quick and can be made by the beginner.
Time to complete 2 hours
Materials:
1 skein of Super Saver ombre yarn fall colors
1 skein of Super Saver wheat colored yarn or off white
1 I crochet hook
Instructions
Chain 77 First two chains count as first dc crochet, skip two chains, dc, chain, dc, skip two chains, dc chain dc repeat until end of row. Chain 3 turn.
Row 1 Dc, chain 1, dc in the center of each V across, dc in last stitch, Chain 3 and turn.
Row 2-21 Repeat row 1.
Edging: Starting at top edge slip stitch into first stitch, Chain 5, skip two chains, slip stitch, chain 5, slip stitch across, continue in pattern all round evenly spacing the chain 5 scallops along each side.