Materials:

Different colored nylons, gold or silver wire, green floral tape.

Directions:

Cut nylon and fit around wire, then twist. Continue until you have a complete flower. Make sure this is attached to a wire stem that is covered with floral tape. Make a lovely bouquet!
By Bev from Chilliwack, BC

Answers:
Nylon Flowers
I am just the manufacturer of nylon flowers, butterflies, dragonflies, ladybugs, bees and so on. If you are interested in, please contact me. I would be very glad to help you. : ) (12/06/2006)

By Ellen Su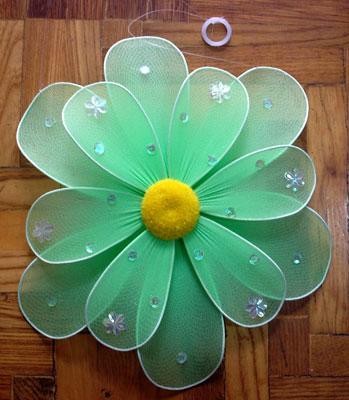 Nylon Flowers
This is no secret, but a craft that was very popular in Europe in the 70s. You take nylons (nylon hosiery, your old ones, worn and torn), any colour. You can dye them with any commercial fabric dye. You can also paint on them as if they were fabric. It is up to you to create the skeleton of whatever object you want to make, then pull the nylon over it and fasten with wire, if possible somewhere non-visible. Now you are finished! (11/02/2007)

By Misty
Nylon Flowers
If you would like to learn how to make all the beautiful flowers and butterfly, please visit this website. It provides free step-by-step instructions and sells all materials you need to make nylon flowers.
craftsnbeyond.com (04/15/2008)

By Chase