November 17, 2010
8

found this helpful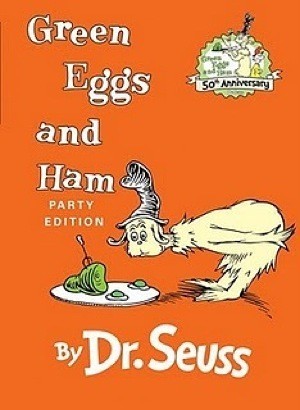 I was learning how to read at the time Dr. Seuss' "Green Eggs and Ham" book was first published and thought, for nostalgia sake, this would be fun to share for the 50th year anniversary of "I do not like green eggs and ham I do not like them, Sam I am." :-)
All you have to do to make fried green eggs and slice of green ham breakfast for one is to mix about 1/4 teaspoon of food coloring in about 1/3 cup of water. Separate 2 eggs whites from the yokes and mix about 2 tablespoons of the food color mixture into the egg yolks. Coat a cooked ham slice with the remaining food color mixture. Pour the whites in a heated butter coated skillet and top with the yolks in the center of the whites. Place the ham in the skillet next to the eggs and steam fry.

By Deeli from Richland, WA
Comments
November 18, 2010
0

found this helpful
Ha ha I have eaten green eggs and ham. In kindergarten we read this book and the teacher made us cover our eyes while she was making the eggs. We were supposed to say magic words to make the eggs turn green but I peeked and saw her add food coloring! Thanks for reminding me of one of my oldest memories!
November 21, 2010
0

found this helpful
How fun for families with small children!