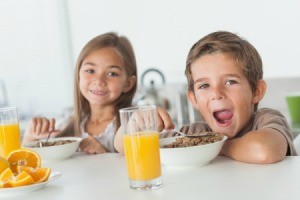 This can be fixed any time and reheated on a busy morning in single portion servings. It even works for a quick snack for hungry teens!
Ingredients:
6 slices bread, cubed
6 breakfast sausage links, cooked and sliced (I use the pre-cooked sausages)
6 eggs
2 cups milk
1 tsp. salt
1/2 tsp. dry mustard powder
1 cup cheddar cheese
Directions:
Place the 6 eggs in a large bowl and beat well. Add the 2 cups milk, salt and mustard powder. Once this is mixed, add the sausage, bread cubes and cheddar cheese. Pour into a greased 9 X 13 casserole and refrigerate for 8 hours or overnight. Bake at 350 degrees for 35 minutes.
This can be made ahead, cut into squares and put back in the fridge to be reheated in single portions as needed. You can add veggies, spices, ham, bacon etc. but it will not keep as long as the original recipe.
Servings:
lots
Time:
10 Minutes Preparation Time
35 Minutes Cooking Time
Source: I had 4 extra kids in the house last week and needed something to serve quickly in the morning that would be good for 3 year olds up to teenagers and this worked great!
By LovingLynden from Lynden, WA
Read More

Comments