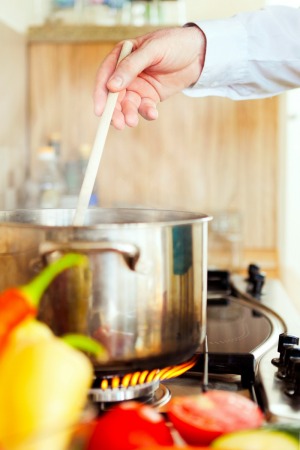 My mom taught me to always use a jar when mixing the dressing for her potato salad or making any other homemade dressing or cold sauce. It is so much easier and cleaner than using a bowl.
You just put the ingredients in the jar, put the lid on, and shake the jar until mixed, then pour it out. Clean-up is fast too. Just rinse the jar, put in a couple of inches of water and a drop of soap, then put the lid on, and shake - clean jar, no mess!
She also used to use a jar to make jello in. She'd put the jello mix and hot water in the jar and stir it with a spoon, then add the required cold water or ice cubes to the jar, before putting the lid on and shaking it. Then she'd store it in the refrigerator in the jar she made it in!
One of my childhood memories is an old mayonnaise jar full of my favorite red jello always in the fridge! Unless she was making a bunch. Then she used her big green Pyrex mixing bowl, which is now so faded, it's white. It belongs to me after I rescued it from being thrown away!

Source: My mom, we always had potato salad and jello in the warm months of the year!
By Judy = Oklahoma from Oklahoma
Read More

Comments