Use leftover pieces of pink patterned papers and a matching piece of leftover floral gift wrap to make this gift, to thank a special teacher for a job well done. The teacher can then use these cards for special occasions in her own life, such as birthday cards for friends or family.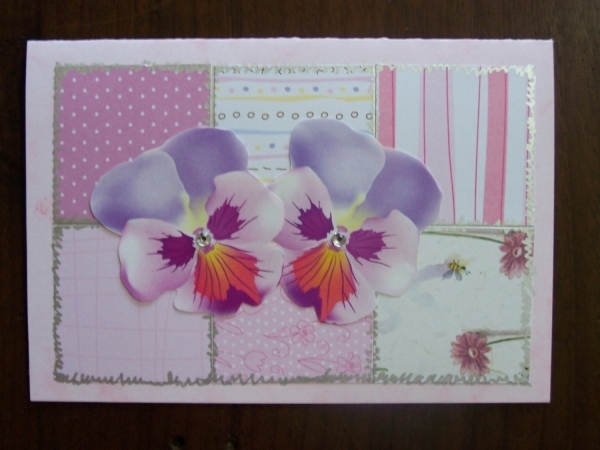 Approximate Time: 30 minutes
Supplies:
4 marbled cardstock in shades of pink and purple ~ each piece of cardstock must be 8.2 inches x 6 inches
24 leftover pieces of pink patterned papers, cut into squares sized 1.6 inches x 1.6 inches
matching piece of leftover floral gift wrap
flat-sided rhinestone beads
ordinary printer paper
matching decorative ribbon
4 matching purple marbled envelopes
matching gift box
Pilot silver marker pen
craft glue
pencil
scissors
ruler
Instructions:
Score each piece of marbled card stock length-wise to create a card sized 6 inches x 4.1 inches.
With the fold at the top, position and glue the patterned papers nicely together in order to design a patchwork on each card.
Using the silver marker pen, draw "stitches" onto the patchwork designs.
Cut out flowers from the leftover piece of floral gift wrap ~ depending on the size of the flowers, use two to three flowers for each card.
Glue the flowers onto the front of each card.
Add a rhinestone bead to the center of each flower.
For each card, glue a piece of ordinary printer paper to the inside of the card, where a message can be written by the teacher.
Use a decorative ribbon to tie the cards and envelopes together, and pack into the gift box.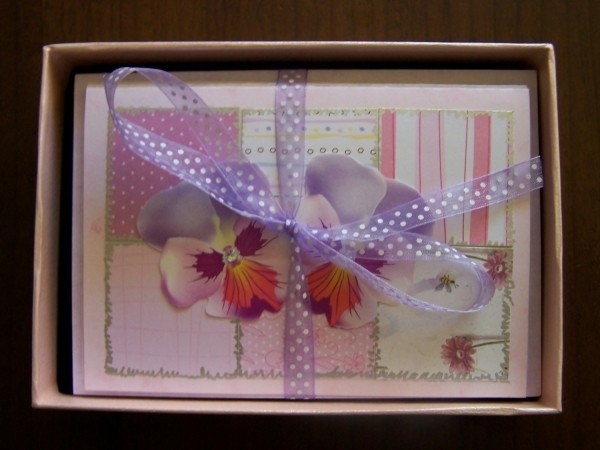 By Benetta from Pretoria, Gauteng
This is a tip for homemade Christmas (or other occasion) presents:

I am a rubberstamper and cardmaker. Last Christmas, I came up with the idea to make packets of stationery as presents.

In Michael's, you can get packets of blank, prescored cardstock and matching envelopes in white or ivory. These sets come in 25 or 50, and in two sizes. These make ideal 'blank canvasses' for stationery. No matching of envelopes is required, because the envelopes are included. (I'm sure there are other places where you can get packets of cardstock and envelopes, as well.)

Before buying your cardstock/envelopes, query your prospective giftees as to their favorite motifs/animals/colors, etc., if you don't already know what they like or even are crazy about. Write down each person's 'favorites list' and keep these notes together somewhere safe. (I keep mine in a big envelope in one of my craft storage drawers, so I'll always know where to find them.) Compile as many 'personal favorites' lists as desired, or as many as the budget will handle. :-)
(You can frequently get the cardstock/envelopes packs at Michael's with a 40-50% coupon, for even more cheaply than normal. I get these throughout the year, and always have some on hand for making impromptu gifts.)
Collect whatever supplies you will need for making the stationery, and set-to! Go to town. Have lots of fun making your own uniquely personalized stationery for friends, family, neighbors, children--in short, anybody who writes, who needs to write notes, (children's thank-you notes, anyone?) or who could be encouraged to write if they but had an attractive incentive. :-) Your stationery can be that incentive!
(I love making these; and my giftees love receiving it and using it too! I gave a packet to a little girl at her eighth birthday party a month ago, using cat stamps. She was thrilled, and used one of her precious notes to thank me for her present! I know that she normally does NOT like to write anything at all, so I considered this a major coup. LOL.)
One more thing: you don't have to be a rubberstamper/cardmaker to fashion stunning stationery. You can use paper scraps, pieces of fabric, yarn, etc. etc. Just use your imagination, and you will come up with lots of wonderful ideas to carry out. Enjoy!
By Bron from Augusta, GA