Children can have great fun both making and playing with these easy puppets. You don't have to use exactly the same materials as I do. For instance, thread, string, or yarn can be used for the hair and beads or jewels can be used for the eyes or you can even just draw them.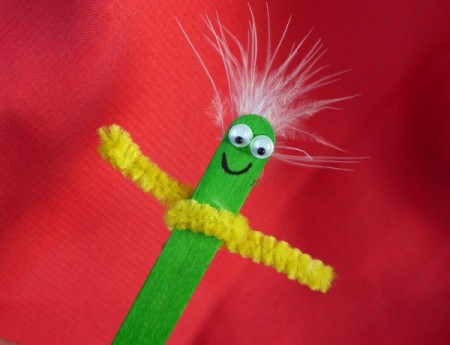 Read More...
November 20, 2006
0

found this helpful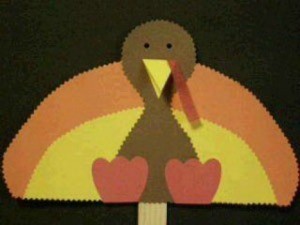 Just in time for Thanksgiving, a delightful turkey stick puppet, that doubles as a fan. It's quick, easy, and you probably have all the materials right at home.
Crafting Time: approximately 30 minutes
What You Need:
construction paper in orange, yellow, and brown
a tiny bit of red crepe paper streamer or tissue paper
hole punch
a paint stir stick, or something similar
craft glue
Directions:
Trace half a dinner plate on orange paper and half a salad plate on yellow paper. Cut these shapes out. Glue the yellow half circle to the orange one.
Draw and cut a turkey head and body shape, it's a simple bowling pin shape, from brown paper.
Punch two holes in the head section for eyes. You can also draw on two eyes with marker.
Glue the body to the center of the yellow and orange half circles.
Cut a diamond shape from yellow paper and fold it in half to make the beak. Glue the back half of the beak to the turkey's head just below the eyes. The beak will open.
Cut a small strip of red crepe paper streamer or tissue paper for the turkey's wattle. Glue the end of this just above the beak, so the will hang down over the beak.
Draw and cut two turkey feet from orange paper. Glue these to the bottom of the turkey's body, facing upward, so it appears as though the turkey is sitting down.
Glue a paint stir stick to the back of the turkey to make a puppet.
By Marie from West Dundee, IL
September 8, 2005
0

found this helpful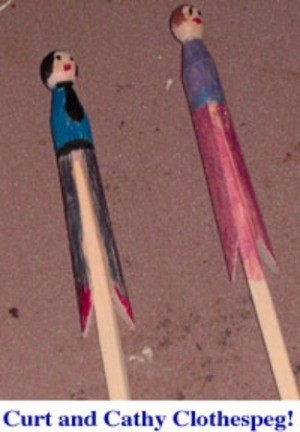 Meet Curt and Cathy Clothespeg, of the clothesline gang. They're all dressed up for a night at the opera.
Round-headed peg clothespins have been a quick crafts staple for decades - so much so that many crafting supply companies package them as 'crafting pins' or some similar name. Frankly, I don't see any difference between the pins marketed to turn into crafts and the ones you buy for $1.19 at the supermarket to hang your clothes.
We've used them to make cottages, napkin holders, Christmas reindeer, and castle fences. These little stick puppets are probably the cutest of all the uses we've found.
If you're looking for a fun and easy craft project to do with a Scout troop or Sunday school class, these cute little charmers might be just the thing. For an added boost in creativity, have each person create a character from a familiar story and use the puppets to put on a play - or dress them up in school colors to decorate lockers.
We just used markers and paints to decorate Curt and Cathy, but there's no end to the materials that you can use to dress up the cunning puppets. Tulle circles, bits and scraps of lace, paint, markers, leftover fabric and yarn - your imagination is the only limit.
Materials
round-head clothes pegs (not spring-clamps)
wooden chopsticks
markers, paints
fabric scraps
glue
acrylic spray
For Bride
4 9 inch tulle circles
12 inches satin ribbon
For Groom
Instructions:
Lightly sand clothespin to remove any rough spots.
Using markers, paint black or blue dots for eyes and red cupids' bow lips.
Glue or paint on clothing using markers, paints, nail polish or any other permanent markers. Spray lightly with acrylic coat to preserve. Let dry.
Paint glue on bottom 4 inches of chopstick and wedge between 'legs' of clothespeg to serve as a handle.

For Bride:

Layer three tulle circles one on top of the other. Fold in half, then twice more to make a point at the top. Using a sharp scissors, snip a tiny bit off the very tip and unfold. Slide the circles over the top of the clothes peg and work down to 'waist'. Dab glue around waistline to secure. Using 1/4 inch satin ribbon, tie bow around neck and wrap ends down and around to back. Secure with a dab of glue.
For veil, fold tulle circle in half and in half again. Dab glue on top of head, and press veil into place, holding until set.

For Groom:

Using black marker, paint on 'tux'. Glue 4" strip of 1/4 inc" satin ribbon along side of each 'leg' for satin striped tuxedo pants. If desired, cut and glue lace ruffle to front of shirt. Glue bottle cap derby" to top of head, and paint handlebar mustache above lip.
There's no end to the adorable puppets that you can create using round-headed wooden clothes pegs. Just fire up your imagination, scrounge for scraps and have fun!
February 25, 2015
0

found this helpful
How do you make Popsicle stick puppets?
By Emma from Seattle, WA
Answers
May 30, 2018
0

found this helpful
These are fun to make and you can use scraps of paper and fabrics to keep it an inexpensive project!
Here is one nice link with instructions
Pinterest has so many ideas ... Found by the phase in your search engine
popsicle puppet making Pinterest
If you like video learning YouTube has lots of choices!
Boy do I wish I had these sources when I was a camp counselor back in the day!!
Have fun with it!
May 30, 2018
0

found this helpful
The easiest way is to make figures out of construction paper and glue or tape them to the stick.
Answer

this Question

...