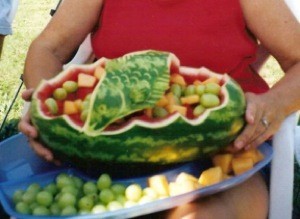 For those of you lucky enough to have fresh watermelon year round, have fun using them as your centerpiece at parties. You can make them into any design you can draw. Here I made a fish jumping over the watermelon bowl.
All you have to do is shape a towel in a "U" then lay your watermelon in that U. It will hold it from rolling. Make sure you have put the flatter side of your melon down for the bottom. Now take a simple drawing, and tape it on top of your melon and trace around it. I then cut my pattern apart on lines that I want to mark on my melon. For the head of the fish, I might cut it off and draw a line along the body. For the lines, I use a vegetable peeler and carefully push it along my drawn line. I use ballpoint pen for nice dark lines to follow. You will be cutting the line off so it won't show when you are done.
Make any designs, such as the scales on my fish, now before cutting out the shape, while it is stable. After you get all of those cut in start cutting along the lines of your shape with a sharp knife making straight up and down cuts just as you would carving a pumpkin. After you are happy with your cutout shape, cut the edges of your "bowl" and remove the fruit. This one I made to look like waves. I could have made several fish jumping up along the sides of the bowl instead of one going across.
Feel free to play with your watermelon bowl for any holiday or special occasion. A child's name, a anniversary number, anything you can draw or trace will work.
By Ann Winberg from Loup City, NE
Read More Comments
I'm looking for a great recipe for a watermelon decoration for my daughters graduation party.

Ruth from Albany, Oregon
Answers
By (Guest Post)
June 4, 2008
0

found this helpful
Here are directions for a watermelon basket if that is what you are talking about.
June 4, 2008
0

found this helpful
i did a carving on one for my daughters wedding with 2 doves on it and did one in the shape of a baby buggy for a baby shower and on the outside of i carved the baby boys name, its very easy to do with just simple kitchen toold or even a pumpkin cutting kit
June 5, 2008
0

found this helpful
A friend made one years ago for a party, and then confided to me that her fridge was so full of party food that she had no where to keep the melon cold. Her Dh went to the store, bought a bag of ice, and stuck it all in a cooler.
Found out the melon would not fit in the first cooler, had to switch coolers, dump the ice out...you get the idea. So measure in advance!! No one needs this type of headache while preparing for a party!
Answer

this Question

...