I would like to know how to make the bootie bag from jeans that has a flat bottom. My problem is how to make the sides hard that they stand up by themselves. I have tried over and over to make this. Can someome please help me with this?

Bonji from Elizabeth, PA
Answers
By eroca (Guest Post)
October 4, 2006
1

found this helpful
i make jean purses and to get stiff sides i use plastic canvas......you can usually find it at thrift stores(thats where i have found alot of it) or at craft stores if you dont have anyluck there
October 5, 2006
0

found this helpful
I love these! Thanks for the link, Ellen.
Old jeans are just too interesting to throw away or even recyley (to fabric mashers). Yep, I've been using the legs for fun bags, but Boot Bags are just too cool!
As to stiffening and hard bottoms? Balsa wood is light-weight, cheap and easy to use/cut. Plastic 'whalebone' (used in girdles) might be a solution, carboard would work, but only if wrapped in plastic to repel moisture, stiff foam is a good idea, but has anyone seen the new ad for Floam? It might work, too.
October 7, 2006
0

found this helpful
In the fabric department you can purchase different "degrees" of interfacing (stiffner). I would cut it to fit the denim and use an iron on fusing material to bond it to the denim. Some of the interfacing even comes already with the fusing on it. This would need to be done before sewing the bottom of the bag together. You could also bond a liner to the interfacing, too, giving you a different fabric inside your bootie bag.
I make handcrafted bags, if I can be of any assistance, please feel free to contact me.
By cherie (Guest Post)
December 4, 2006
0

found this helpful
I saw the cutest bags and know I can make them for myself. Just have to figure out how. I guess they are called the bootie bags and yes they are made from denim jeans. These had stiff sides. So where do I get the handles? I don't have a sewing machine co can I do it by hand and if so what will I need? Does anyone have any pictures they can send me of a step by step process so I can see how exactly to do the bottom? Thanks so much
By Carmella Lee (latinmom@peoplepc.com) (Guest Post)
December 19, 2006
0

found this helpful
Can anyone give me a site to get free step by step instuctions for making the bootie bag?
By Stacey (Guest Post)
January 15, 2007
0

found this helpful
I would recommend using the back board for mats when you mat artwork (found in an art supply store or Michael's). It is strong enough and can be covered with fabric using spray mount.
By cherie (Guest Post)
January 15, 2007
0

found this helpful
Any suggestions on where to buy the cute beaded handles ~or~ how to make them , like what gauge wire, how to close the loops, etc.... Also where do you buy cheap belts too? Thanks.
By Carolyn (Guest Post)
January 18, 2007
0

found this helpful
lining your bag to stand up on it's own, you must line bag first. then cover panels of very thin wood with same fabric.
you will cover three pieces of thin wood for front and back walls. one for bottom. hot glue in place.(on the inside) the side' do not get paneled. the panels can will be snug.
February 15, 2007
0

found this helpful
buy your instructions from diva bootie bags her instructions are great on ebay that is the way I learned how to make them and sell them very nice instructions.
by Elena
By RANDOM (Guest Post)
April 11, 2007
0

found this helpful
For the sides, use foam core - available at most craft stores. It's what's used in real Bootie Bags.
The bottom is covered plywood.
Plain handles are available at craft stores. Make sure that you get beads with holes large enough to go voer the handles. Connect handles to the bag with the seams from the legs that you cut off. Fold them over the handle connectors and staple to the foam core.
By RANDOM (Guest Post)
April 11, 2007
0

found this helpful
P.S. You can do it ALL with a hot glue gun and a staple gun.
June 15, 2007
1

found this helpful
I think that everyone that has posted instructions is way off. I have been making them for 7 years and nobodys I have seen look very good. They look cheap and very homemade. I could get you my instructions and you would save alot of money and time. I sell my bags for $150 to $500. They do not look homemade.
Using plywood is wrong, too heavy and if it gets wet the bag will warp.
I would have to email you my instructions with a photo. I would have to send them later, as I have to type them up and then forward them.
By Laura Lee (Guest Post)
June 17, 2007
0

found this helpful
If you would just go to Ebay, you can purchase instructions (very easy to follow~Very thorough~with pictures). I purchased the instructions from one person on Ebay and am very sucessful in my purse business! You can find these instructions by using the Search Engine and type BOOTIE BAG...you will see that there are only a couple of ppl offering instructions for these bags..Like I said before..they are very good instructions and very easy to follow!
Good luck with your search..I hope I have helped the ones looking to find the way to make these adorable bags! Have fun!! :o) (Included is a picture of the bag that I made for myself..It is absolutely GORGEOUS!! I made this bag from a pair of Black Wranglers)!!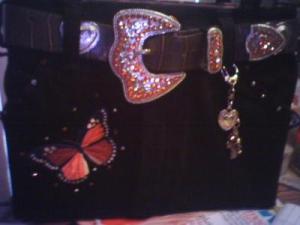 Read More

Answers
I would like to have insturctions on how to make a bootie bag. i almost have it but I need more help.

Thanks,
Bonnie from Pittsburgh
Answers
By Lynda (Guest Post)
October 1, 2006
0

found this helpful
Or perhaps you're talking about a house-slipper travel bag? What's your understanding of a bootie bag description? If it's to hold coins or something
like in biblical times, it's done with security in mind,
with each of two pair of pull cord strings pulling in the opposite directions within their own separate "tunnel" about 1/3 way down from top of bag, and not exactly opposite of each other when pulled, but rather slightly offset by about 1/3 inch. Good luck and God bless you. : )
October 1, 2006
0

found this helpful
What do you mean by a " bootie Bag"?
January 19, 2007
0

found this helpful
To see what a Bootie bag looks like go to imaginarykingdom.com and click on bootie bag.
Answer

this Question