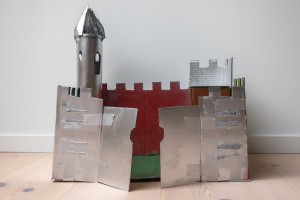 My daughter (7 years old) has to make a 3D castle for school. Does anyone have any ideas on how to make this? It's got to have a moat and portcullis and a chapel and dungeon, etc. (Ugh! I'm not very creative!) Any suggestions would be greatly appreciated! Thanks in advance!
Michelle from Corinth, TX
Answers

Louise B.
Silver Feedback Medal for All Time! 337 Feedbacks
September 29, 2008
0

found this helpful
Best Answer
My brother in law helped my sons make a castle. They started with a fairly heavy cardboard box, fairly square. If it was to tall you could cut it down, so you don't need one that is perfect cube.
They cut the top edge like the top edge of a castle. Built square tubes out of cardboard for the corner watchtowers. They cut the drawbridge on 3 sides and folded it down. They used string for the chains, so it could be raised and lowered.
They didn't do the moat, but if you have a larger box, you could set the castle into the larger shallow box, and use blue paper for the water surrounding the castle.
Duct tape or black electrical tape is good for this because it holds well, and can be used to make hinges, such as on the drawbridge. I am not sure how to go about making the dungeons -- perhaps a false floor in your box, with stairs and a trap door leading to the dungeons. You could make the floor removable so that you can see the dungeons.
This could be painted with tempra paint, or just draw stones on the outside with markers. Get some pictures of castles from children's books or off the internet to give you some ideas of how these things should look.
Pizza boxes are good to use for extra cardboard, as they are nice square pieces, flat, often with no logos, and a nice thickness of cardboard -- not too thin, not too thick.
Have fun with this, and remember that this is supposed to be your daughter's work, not just yours.
By Danielle Johnson (Guest Post)
September 29, 2008
0

found this helpful
Best Answer
How about Sugar cubes? They stack nicely, even legos would be awsome. You can spray paint the legos so they do not look so "pre-bought". Also, if you live near a Michael's Crafts, they sell a lot of Foam products and foam sheets.
They even sell a pre-made castle. Take a look at it, and custom build your own for ideas.
By gReTcHeN (Guest Post)
September 30, 2008
0

found this helpful
Best Answer
I helped my little sister a few years ago with a similar project (I'm now in my 3rd year of art school, so i have some credibility). Take empty water or pop bottles and some other empty canisters, like coffee containers or pringles cans or something. Wrap them in black or grey construction paper. gather some gravel and hot glue the stones to the bottles and containers. This makes it look like a stone castle!
Just let your kid have fun. you can look around the house for odds and ends to use. It's kinda fun. Popsicle sticks work well for constructing a drawbridge. You can make funnels out of construction paper and use them as the points on your towers. Water for your mote can be made out of colored plastic cling wrap. Hope this helps! Remember, just have fun with it!

September 29, 2008
0

found this helpful
www.yourchildlearns.com/.../castle.html
These are a couple of places when I googled "pattern to make a castle."
Read More

Answers