May 8, 2010
6

found this helpful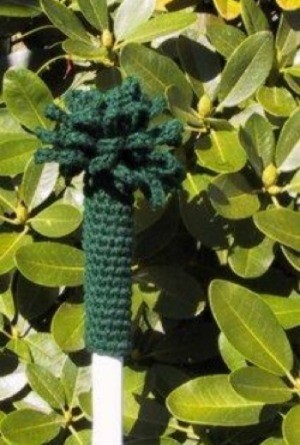 I don't know about your house, but here it is spider season. The little devils are leaving their cobwebs around all over the place. I have an aversion to step stools, okay just call me Grace, so I whipped up this little goodie to reach all those pesky webs without my tooties ever leaving the security of the floor.
Approximate Time: 30 minutes max
Supplies:
1 oz worsted weight yarn either cotton or acrylic
US H crochet hook
tapestry needle
Size:
Approximately 6 inches tall
Instructions:
Tube:
Rnd 1: Starting at top, ch 2, 6 sc in 2nd ch from hook (6 sc)
Note 1: Do not join rounds. Mark first stitch of each round if necessary.
Rnd 2: 2 sc in blo of each stitch around (12sc)
Rnds 3-5: Sc in blo of each stitch around (12sc)
Note 2: At this point try it on a broom handle.
It should fit fairly snug. If it fits too loose, switch to a smaller hook for the remainder of the tube.
Rnds 6-19: Sc in each st around. Tube should be approximately 6 inches long. Slip stitch in next 2 sc.
Break off and weave in end.
Loops:
Join yarn with a slipstitch in first unworked loop of round 1. Chain 12, slip stitch in next unworked loop. Continue working chain 12 and slipstitch in next unused loop until you reach the start of round 6. (40 loops)
Break off and weave in end.
Place on broom handle and dust those cobwebs away. Shake and wash.
blo = back loop only
By Suzie from Bellingham, WA
Comments
May 8, 2010
0

found this helpful
Wow! What a great idea, just like all the best ones, simple but ingenious
May 12, 2010
0

found this helpful
Well yes, simple for those that crochet. But these instructions look like another language to me. Anyone willing to make me one at a fair price?
Great Granny Vi