Making a Crocheted Carrot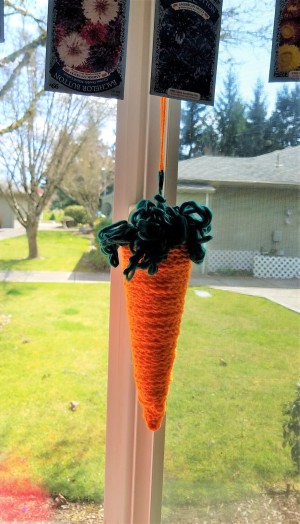 If you can make a crochet chain stitch then this project is for you. With a foam Christmas tree foam, orange, and green yarn you are set to go. You can pin the chain in place to make a temporary decoration or hot glue for a permanent one. These cute carrots are fun to hang in the windows or maybe make into a garland.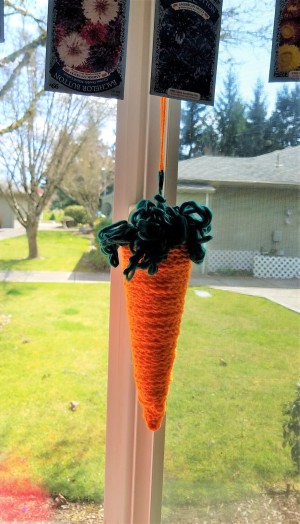 With the foam Christmas tree forms, some yarn, a hook, and some pins, you can make this cute "temporary" carrot for your windows! I ended up not using hot glue.

Total Time: 3 hours
Yield: 1
Source: Have seen lots of carrots done with forms.
Supplies:
20 yd orange yarn
1 yd green yarn
1 scissors
1 size I hook
30 or so straight pins
1 Dollar Tree Styrofoam tree form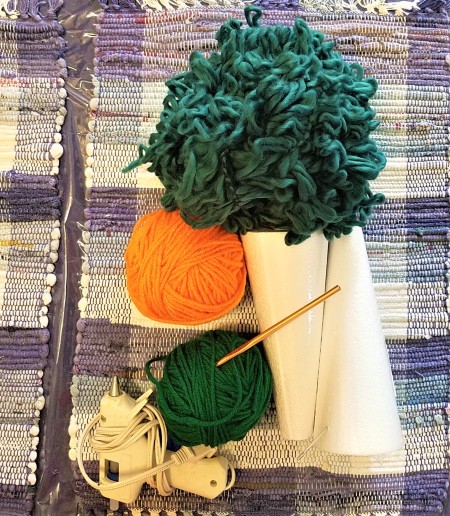 Steps:
With your hook, crochet a chain about 6 yards long. Because you might not have enough chain, I always start the pinning from the beginning of the chain. That way, if you have to continue on the chain, you can just keep chaining from the "open" end.

When you think the chain is long enough, start pinning at the bottom. Now, you might want to know why I am pinning this instead of gluing it. I am in a tiny apt. and I have been trying to make things, share then, then "dismantle" them so I can not only save money on materials, but this saves me storing things I have made that I can't sell right now.

So, I pinned about every 2" or whenever I thought I needed to. If you gently stretch the chain, you can sometimes get away with wrapping around the form one time for every pin. But keep in mind, if you do stretch it, it might sag so proceed accordingly. Now you can see how I had to continue the chain as I hadn't made enough to do the project. If you do it from the beginning on the tapered end (or the other direction if you prefer), you are left with what I call the "open" end. This simply means you insert your hook and keep going.

When you get the chain pinned on the form, it's time to do the bottom. I crocheted about a chain 2 and make a spiral chain 1 in 1 stitch and 2 in the next till you have a cone shape, almost like a "bugle" chip. Its design can be a bit "natural" as the cone is so perfect that I wanted the bottom to be more like a carrot. I pinned it on like the rest.

I crocheted a chain of 16 and joined with a slip stitch. Then I crocheted 32 doubles, 2 in each of the chain stitches, for a circle, then joined with a slip stitch and cut the tail. I pinned that too. Now if you find this circle is a bit too small, like I did, you might want to make two rows of half doubles. The first row would be 2 in each, then the next would be 1 in one and 2 in the next, like you were making a beanie hat.

For the carrot leaves, I chose a yarn from Coats and Clark that I actually got at the Dollar Tree. It's loopy already and saved me some time. I looped it around my phone case about 3 times, giving me 6 loops. Then, I drew them all together with some scrap orange yarn. I then strung some "hanging" yarn from that loop, then pinned the green to the top. I slanted the pins to make it so it would be harder to just pull straight out if gravity took over. Once hung, it really adds to my flower seed packet garland. I hope you like it!

NOTE: Now that you see how to make it, I wanted to give you some tips on how to "unmake" it. By clipping the hanger, unpinning it all, and "frogging" the yarn chain, I now have the same carrot materials as I did in the beginning. I can now use the yarns for something else, as well as the form. This might be the norm for a while. Until I can safely sell things, I have shut down my Marketplace account and notified all my buyers they can't come pick things up. Sadly, I will have to at least try and do things this way till this mess is over.
I wish you all safety and sanity. Poor But Proud
Comments

15mhhm15
Diamond Post Medal for All Time! 1,298 Posts
March 30, 2020
0

found this helpful
Such a great idea to use the Christmas tree forms temporarily for this season. :) Love the crocheted carrot. take care & be safe, Sandi.

March 31, 2020
0

found this helpful
Thanks so much. I am doing this more and more now. I am staying as safe as I can. Too much of that however, depends on other people who aren't as careful as they could be.
Will be posting a couple things in the next day or two. You stay safe, too.
Published by ThriftyFun.
© 1997-2022 by Cumuli, Inc. All Rights Reserved.
https://www.thriftyfun.com/Making-a-Crocheted-Carrot.html