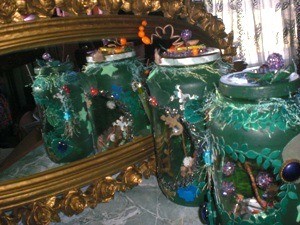 Story Jar made from recycled kitchen jars. After the contents of the jar are emptied, wash and dry. If you want a "peep hole" in the front, cut peel-n-stick shelf paper the desired shape and place it where you want it, then paint the jar.
Find things that are similar to put inside and out. Mine have a variety of items both new, as well as used, but are thematic.
Forest:
beads
charms
twigs
decorations saved from a bakery item
a mini handcrafted cardboard box
a mini corked bottle of glitter (fairy dust)
part of a seasonal decoration taken apart and re-glittered
cardboard scrap leaves covered with green candy wrapper foil
craft punches for a lizard, frog, flowers, leaves (I will glue on a little bird or two when I locate that craft punch)
leaves cut from old green clothing and also from a green canvas tent!
glow-in-the-dark foam stars inside and out
and more!
This craft is a lot of fun and would make a great gift!
Source: Saw the idea on a website.
By melody_yesterday from Otterville, MO
Comments
Read More

Comments