Making a Flower Pot Candy Dish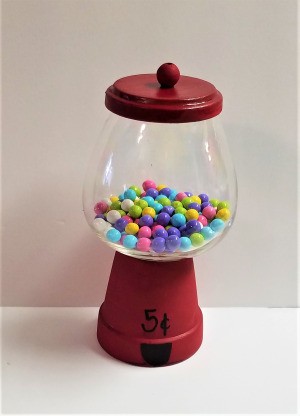 Even with the mistakes, I think this was a lovely learning endeavor. I have three more I am will be making soon, but this one is all done.
Total Time: 2 hours
Supplies:
4 inch flower pot and saucer ($1.00)
1/8 cup paint
3 foam and regular brushes
1/2 inch wooden bead or small wooden ball
4 inch glass bowl
1 black felt marker
1/2 oz acrylic glue
6 oz candy ($1.00)
hairspray
scissors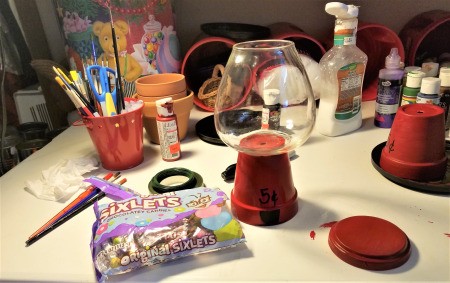 Steps:
Pour some red paint into a cottage cheese lid. I painted the pot 4 times.
Then, I did the lid. Now, if you do this, don't use any lid that has been previously painted or worse, shellacked. I didn't have the right size saucer, so I got a planter for .50 at a thrift store. After 7 coats, I gave up and just sprayed it and went on. Lesson learned.
I made a simple 5 cent sign and a small black decoration on the bottom of the pot base. Then I shellacked (using hairspray) it again. That was almost a disaster. I recommend you spray it and let it dry. Then, put the markings on it and leave it alone. My ink began to smear/run and it was almost unusable. But, you might want to do something cuter, as I will do on my next ones. I painted a wooden bead and then glued it on the saucer lid. Filled with candy, it's pretty cute. I can only promise they will be better from now on.
You would think I could find gumballs in the dollar store. But the only ones I could find looked like baseballs. So, I got a bag of little candies and cut the little sleeves and poured them in.
Add your voice! Click below to comment. ThriftyFun is powered by your wisdom!