I am looking for ways to make a hanging pot rack. I want to get all my pots and pans up and out of the way.
Cindy from Elkhart, IN
Answers:
Making a Pot Rack
My daughter put hooks on a cake cooler rack and hung it with a light chain. Very attractive and effective. (02/23/2007)

By siris.
Making a Pot Rack
I've seen them made out of an old window frame, and then add hooks to it over the sink. (02/23/2007)

Making a Pot Rack
I purchased 2 metal hanging wall hook units from the dollar store for $1 each and hung them next to each other. They worked wonderful for my pots and pans. I even hang some of my larger utensils. It hangs over my microwave and toaster/convection oven. I have had several comments on my "imagination" on utilizing things that others didn't think of doing. Hope this gives you some inexpensive ideas! I've even sent a picture to show you, excuse a pot being missing, I'm cooking dinner as I'm doing this :)
Cheryl
http://www.2ewenique.com (02/23/2007)

By Cheryl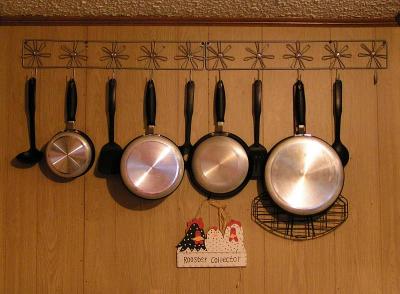 Making a Pot Rack
I screwed screws into the wall and hung up my pots on the screws. I am so proud of myself. (02/23/2007)

By sandy
Making a Pot Rack
I used some nice thick crown molding that my hardware store was selling cheap. They cut it in 2 foot pieces, which I attached to my hideous kitchen wall paneling using the screws they recommended. I bought some heavy duty hooks and screwed them into the crown molding. It cost me about 8 bucks total for my two pot racks, which have held up for three years and counting. (02/23/2007)
By Amy Singh
Making a Pot Rack
I was in Home Depot and happened to speak with another customer while waiting for paint to be mixed. She mentioned that she found an old basketball hoop at a yard sale, painted it black and had it mounted to the wall above her sink and that is her pot rack. I would imagine you could mount it with chains to the ceiling as well. (02/24/2007)

By Roberta
Making a Pot Rack
Two ideas for the hanging type: Go to a salvage store, thrift store, or garage sale and look for an old iron gate, heat or floor or air vent cover. Hang it from the ceiling and use "S" hooks to hang your pots from. Or, make, buy a new, or find an old used ladder, hang from the ceiling and again use large S hooks to hang pots from. Ladders are great because you can find smaller step ladders or larger ones depending on the size of your kitchen. Remove the back side of the ladder and hang the rung side from all four corners. Paint, stain, or leave it as is for the primitive look. You can also hang dried bunches of flowers tied with ribbon or jute. They're quite attractive. (02/25/2007)
By Sandra Stout
Making a Pot Rack
I was given an iron and glass table that I really had no sensible use for and was just about to give it away again when I realized I can disassemble it and use the round base to make a very pleasing pot rack!
My plans are to take off the legs, attach chains (I may need to paint the chains to match). I am also trying to decide how to create a bottom cross section that will function as a basket to hold lids. I'm thinking to use a strong gauge wire and weave it in dream catcher fashion, since it is going to be a round pot rack. I may need to try a few methods and ideas before I settle on a good plan for a rack. I'm researching now and this is how I found this site.
Look at what you have around your house that may be suitable. Scan yard sales and thrift stores... maybe even scrap yards! Then add S hooks and mounting chains and you may find you have something better than what was available to purchase! (11/15/2008)
By linda r.
Making a Pot Rack
Try searching "Kee Klamp", and making a pot rack with pipes. You can build whatever you want, it is amazing, or just use plumbers pipe fittings. (02/02/2009)