Making a Slip From An Old Nightgown
Solutions
Share on ThriftyFunThis page contains the following solutions. Have something to add? Please share your solution!
I needed a really long slip for a maxi-dress. Two problems, I was out of $, and I couldn't find a long one at the store anyways. Then I remembered the old nightgown I had purchased from a thrift-shop for only a couple of dollars. I rarely wear it, they are a dime a dozen at the thrift shops, so I decided I could make my own slip.



I am no sewing expert, so trust me when I say that anyone with very basic sewing machine skills can do this. Basic as in turn the machine on and sew a straight line. It also took an hour or less.
I was very happy with the results and I now have a nice long slip, for free! :)
Total Time: Hour or less
Yield: 1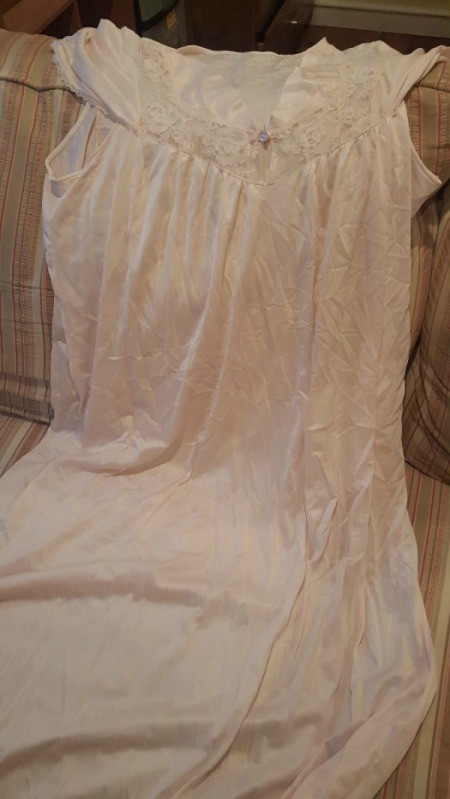 Supplies:
polyester nightgown
sewing machine
scissors
straight pins
1/4" elastic
Steps:
You will first want to choose your nightgown. As I mentioned, Goodwill and thrift shops have these for a dime a dozen. Choose a 100% polyester one as these are nice and silky and will perform just like a traditional store bought slip.
I first cut the top off with pinking shears. I chose to cut just below the arm openings.
I then put the "skirt" of the nightgown on to see how much smaller I wanted it. You want it snug like typical slips, yet wide enough around so that it allows you to comfortably sit down. As you can see, the easiest way I saw to do this was to sit down, grab the extra fabric, mark the spot and then cut.
I first decided to sew the sides. You will do this with the "right" sides of the fabric facing each other. The "wrong" side, or future inside, will be facing you. :)
Then I decided to make a casing for the elastic on the waist edge. Turn down the top edge a bit, hold in place with straight pins and sew.
You will then turn down your hemmed edge and insert your elastic near the top. The key is to pin "below" the elastic. I have learned from trial and error that you must do this so as not to sew over the top of your elastic.
Secure your elastic with a straight pin so that it stays in place while you sew and the end doesn't get lost.
Sew around the entire casing. When you get to within a couple of inches from where you started, you will then try your slip on and adjust the loose end of the elastic. Pull the loose end and secure it over the top of the starting end. Every measurement will be different. You simply need it to be snug enough not to fall off and yet still be comfortable.
Cut the excess elastic and sew the ends together. I go back and forth over these quite a few times with the machine just to be sure they are extra secure.
Now that your elastic is joined, you can sew the remaining casing shut.
All done! :)
Comments
June 28, 2015
0

found this helpful
This is a great idea! I can't find slips I like, at a reasonable price, in the mail order catalogs I usually shop from, so I was wondering about doing something like this, except that I didn't think of using nightgowns! In my case, I need plus-size cotton slips for the summer, and plus-size synthetic slips for the winter, so I'll be hitting my local thrift shops for some nightgowns I can convert. Thanks for posting this!
Categories
Pages
More
Categories