Crochet around an insole for your funny Valentine.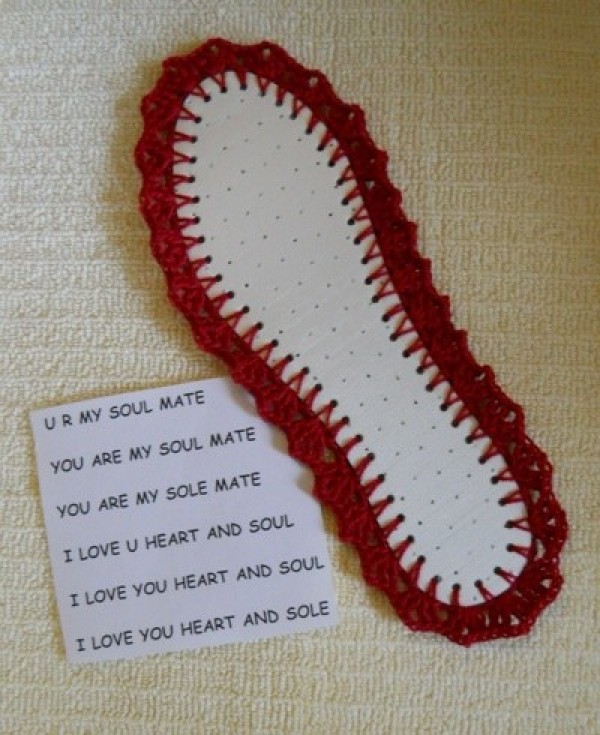 Approximate Time: less than an hour
Supplies:
small insole
size 3 crochet thread
size C (2.5 mm) crochet hook
1/8 inch hole punch
Instructions:
Prep the insole: The package I bought is from Kmart and included a template for different sizes. If your insole is like mine you will need to trim it to the smallest size.
On the wrong side, with a pencil, lightly draw a line about 1/4 inch from the edge. Then punch holes every quarter inch just on the line.
Crocheting the edging:
Round 1: Attach thread with a sc in one of the holes. *Ch 1, sc in next hole. Repeat from * around. Join in the first sc with a slipstitch.
Round 2: Ch 3, dc, ch 2, 2 dc in same stitch. *Skip one sc, 2 dc, ch 2, 2 dc in next sc. Repeat from * around. On the curves of the toe and heel use your own judgment, I didn't skip a sc on those curves. Join with a slipstitch in the top of the beginning ch 3.
Fasten off and weave in the ends.
Write your message on the insole with a permanent marker.
U R MY SOUL MATE
YOU ARE MY SOUL MATE
YOU ARE MY SOLE MATE
I LOVE U HEART AND SOUL
I LOVE YOU HEART AND SOUL
I LOVE YOU HEART AND SOLE
By Suzetta from Bellingham, WA