It's been well over 90 degrees F and way too much humidity for some time now. Staying hydrated is very important for all of us. Here's a use for those orphan socks we all have. Cotton socks absorb best.
There are 2 ways to fit it to your bottle:
Put the bottle all the way into the sock and turn down the top to drink. Turn it back up to carry in your purse with you.
Put the bottle in as far as you want and cut off the bottom to sit flat on a coaster.

Tip: Fill your bottle 1/3 full of water and tilt it in the freezer, I do mine overnight. The next morning, fill the rest with cold water. It goes with me in the car. Don't forget your sock!

Sorry I can't include a photo as my camera is on the fritz but you get the idea. ; )

By Keeper from Morganton, NC

Read More

Comments
Does anyone have a pattern for a water bottle cozy? My bottle "sweats" on my table. I have an idea, but would like to get other ideas.
By Denise from GA

Answers
July 11, 2011
0

found this helpful
I just use coasters underneath the water bottle or glass. Never thought of making a "cozy" for a water bottle but it shouldn't be too hard to sew up a rectangular sleeve out of scrap fabric. Try leaving the bottom open if it's too hard to sew a cozy with a flat bottom.
July 12, 2011
0

found this helpful
Great use of an orphan sock! You can cut off the bottom to the length you need. ; )
July 13, 2011
0

found this helpful
Thanks, hadn't thought of the orphan sock! (DUH!) I did make one like OliveOyl suggested. Yep, decided to leave the bottom open, too hard to sew the round bottom in. Just using some scrap fabric and using over used towels from the rag bin as the lining. I have coasters, but my wonderful husband tends to sit his glass/bottle on kitchen counters without thinking about the puddle it leaves. I'm open to more ideas!
July 13, 2011
0

found this helpful
I just slip a baby sock on my 8oz bottle. That keeps it from sweating when I carry it in my purse. All kinds of baby socks available at Target in their "Dollar" kiosk in the front of the store. If the sock is too long just fold over the top. This also insulates the bottle even better.
July 13, 2011
0

found this helpful
I use one of the many orphan socks I seem to collect in my laundry. Cut off the foot part and just gather the cut edge with strong sewing thread. U can add a felt circle to the bottom, stitching it on with blanket stitch if u want more stability for the bottle. I sewed on novelty buttons too just for the fun of it.
July 15, 2011
0

found this helpful
I crochet, so I took a pattern for a hat and only made the starting circle as big as the bottom of the water bottle, then stopped adding extra stitches so that as I crocheted, it went up instead of bigger around. I made it half as tall as the bottle then finished it off. You might use a pattern for a baby bottle & make it a bit bigger.
Answer

this Question
I need an idea on how to make a cover for a plastic water bottle.
By diasap

Answers
September 9, 2011
0

found this helpful
I use a clean, old, orphaned sock.
Keeper
September 14, 2011
0

found this helpful
There is a website called etsy,com, they have all kinds of patterns!
September 14, 2011
0

found this helpful
My favorite water bottle cozy has been made at Cub Scout meetings, Girl Scout meetings and camps, and even at church.
Take a child's sized sock. Pull it over the water bottle. I run a strip of duct tape around the top part of the bottle be fore it begins to get smaller. Fold the sock down on itself. Use a piece of ribbon or make a strip of duct tape folded on itself for a strap. Place the strap on the sock and run a piece of duct tap around the bottom and top of the sock.
I then add a "smile" piece of duct tape over the handle to reinforce it. Duct tape comes in so many colors and patterns. It is so fun to use!! You could really load it up with tape for more insulation.
Answer

this Question
How do I make a holder or carrier for my water bottle?
By diasap

Answers
August 27, 2012
0

found this helpful
I just put a sock on my water bottle and stick it in my purse. The sock keeps it from dripping and insulates it. A baby sock will work for the small 8-10 oz bottles.
August 28, 2012
0

found this helpful
I like the sock idea. I use a sock over a dish washing liquid container, filled with water and frozen, as an ice pack to take to bed on a muggy hot night. For your water bottle you could use a discarded baby bottle cozy. They are also called koozies. You could up-cycle neoprene from a wet suit or tablet sleeve. the website greensmart has bottle carriers made out of what they call neogreene, a more environmentally friendly insulator and shock absorber. If you are in a real hurry the neoprene ones made to go over soda cans cost less than a dollar. You could also cut a discarded rubber hot water bottle into a piece long enough to wrap around your bottle and glue velcro to the edges. Silicone self fusing tape comes in different colors. You could design your one of a kind bottle with it.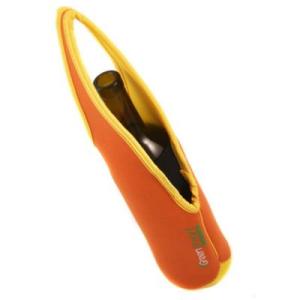 Answer

this Question