March 26, 2005
1

found this helpful
This is a two for one. After a bad wreck I was very depressed. At the time I did not have any pets, which was unusual for me. My family gave me this dog to try and help with the depression. She was about a year old at the time and refused to drink water out of anything except puddles in the back yard. She is now about 5 years old and is still particular about what she drinks out of. I have never found any kind of a dish that she would drink from. I was feeding her ice cubes for her water.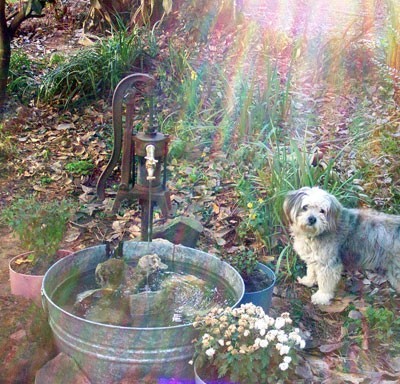 I was given this hand pump and made a water feature out of it, along with an old metal tub. I gutted the pump and ran the tubing through to the faucet. It makes a lovely sound and of course looks nice. Well, come to find out my temperamental dog will drink out of this and nothing else. I no longer have to feed her as many ice cubes. I would sure like to know why she is so picky about her water dishes. I have thought about submitting this to Unsolved Mysteries. :-)
By Verue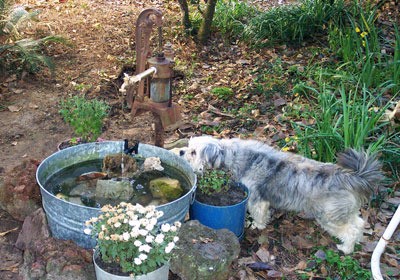 More information: The dog's name is Frosty. Very original I know. But she just looked like she had frosty hair. She is supposed to be a Shih-tzu, but I really don't think she is. She was about a year old when she came to live with me. She is very independent but very loving. I think she knew I needed her. I clip her hair twice a year and she acts happier after getting clipped. She must not like all that hair. She has the most unusual personality of any dog I've ever known.
The pump was given to me by my dad. I took everything out of the inside of it so the tubing would go through it. I bought a submersible water pump from a Home Depot and just ran the tubing through the hand pump until it stopped at the faucet. Very simple and easy to do. My dad thinks I should take the faucet off so it will look like a artesian spring pump. The tubing goes over the edge of the tub then into the pump. It is then buried so the pump will stand up. The power cord goes over the tub in the same place as the tubing then it is buried until where it goes up to the outlet. I then covered up the area where they go over the tub with rocks so you don't see them.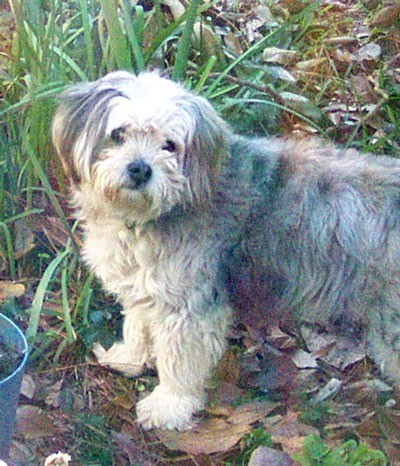 June 8, 2004
1

found this helpful
Hello, here is a simple easy way to add a water feature to your yard. It's easy, my sons did it by themselves. At the end of summer they decided to make their wading pool into a pond. This can also be done with any small pool, water proof container, anything that holds water. They filled their old pool with water, got some water and bog plants from a friend.
After the water had equalized a few days we added fish. We used goldfish feeders, they don't need a pump for air. Actually the fish can live off the plant roots which also supply extra air to the water and keep the water clear. It becomes a bio-environment.
You can camoflage the sides of the pool with plants in pots, with rocks, pieces of wood. Good plants are hyacinth which float on top and bloom a lot in the sun. Some plants that are considered bog plants or like wet roots can be placed on bricks in pots so they won't be totally submerged.
My boys even added frogs and crawfish they caught at a local park. We've redone our pond several times over the past 10 years, we still use a childs pool, it literally takes care of itself, adds beauty and interest to the yard and garden and costs virtually nothing using plants we had and were given. And reusing the old pools the kids used during the summer.
You don't need to treat the water, because the plants and fish take care of that. The only real cost are the fish which we have to replace because the frogs don't live on bugs alone. My boys are in their late teens now and plan on redoing the pond this summer, making it larger but keeping it a self contained bio-environment. That way we don't have to replace filters like our friends who have pond.
This pond is very cost effective. Just to get the facts straight, my boys had the idea 10 odd years ago when I said we couldn't afford a pond. They showed me how to do it frugally and it has brought us years of pleasure. Not to mention people are amazed at how simple it can be. Hope you try this and enjoy it as much as we have.
By Theresa
I would love ideas on how to make a water feature. I already have a fountain, but would like something different, almost a woodland scene. And how do I screen it to keep critters from falling in? A baby skunk fell in last summer and drowned. And I am also looking for ideas to make a corner rock garden. Any thoughts are welcome.
Hardiness Zone: 4b
By jann weitman from Union, OR
Answers
June 29, 2009
0

found this helpful
Plant Ferns, Azalea, some siberian iris, hostas, oriental lilies, canna lilies, etc around it.
To critter protect it the only thing I know of is bird netting. Birds and frogs can become entangled in it though. If you want wildlife to be able to drink from it then you should have a little waterfall where they can drink and not tumble in.
July 5, 2009
0

found this helpful
Go to a koi pond specialist. They have a net that protects the fish, but it also protects the critters from drowning. Also, if you don't already have a pond, consider a pondless water feature. The water bubbles up from gravel or rocks, spills over the edge of fountain or down a waterfall and falls into a rock covered basin with no standing water to drown animals or children (hence the popularity on home remodel shows) and has the benefit of no standing water for mosquitoes.
Answer

this Question

...