This is a two for one. After a bad wreck I was very depressed. At the time I did not have any pets, which was unusual for me. My family gave me this dog to try and help with the depression. She was about a year old at the time and refused to drink water out of anything except puddles in the back yard. She is now about 5 years old and is still particular about what she drinks out of. I have never found any kind of a dish that she would drink from. I was feeding her ice cubes for her water.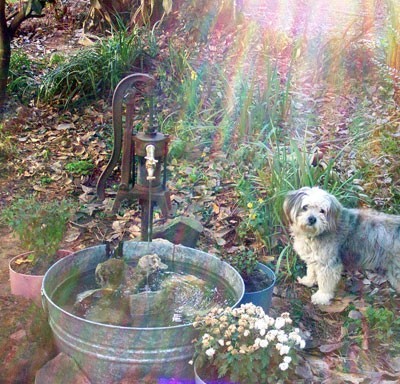 I was given this hand pump and made a water feature out of it, along with an old metal tub. I gutted the pump and ran the tubing through to the faucet. It makes a lovely sound and of course looks nice. Well, come to find out my temperamental dog will drink out of this and nothing else. I no longer have to feed her as many ice cubes. I would sure like to know why she is so picky about her water dishes. I have thought about submitting this to Unsolved Mysteries. :-)
By Verue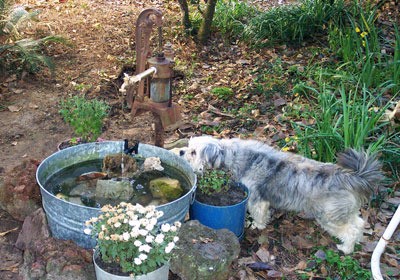 More information: The dog's name is Frosty. Very original I know. But she just looked like she had frosty hair. She is supposed to be a Shih-tzu, but I really don't think she is. She was about a year old when she came to live with me. She is very independent but very loving. I think she knew I needed her. I clip her hair twice a year and she acts happier after getting clipped. She must not like all that hair. She has the most unusual personality of any dog I've ever known.
The pump was given to me by my dad. I took everything out of the inside of it so the tubing would go through it. I bought a submersible water pump from a Home Depot and just ran the tubing through the hand pump until it stopped at the faucet. Very simple and easy to do. My dad thinks I should take the faucet off so it will look like a artesian spring pump. The tubing goes over the edge of the tub then into the pump. It is then buried so the pump will stand up. The power cord goes over the tub in the same place as the tubing then it is buried until where it goes up to the outlet. I then covered up the area where they go over the tub with rocks so you don't see them.