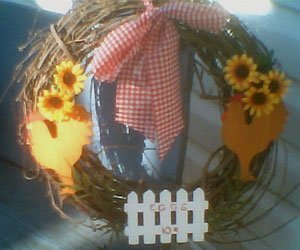 If you have a friend who likes chickens, here's a perfect gift.
Materials:
wooden chickens
fence
acrylic paint
grapevine wreath
artificial flowers
ribbon
artificial eggs
Instructions:
Just take some wooden shaped chickens and fence. Paint them with acrylic paint and let dry. Hot glue onto a grapevine wreath then glue some flowers of your choice and a decorative ribbon. You could add some fake eggs if you like. This is a very fast and pretty gift.
By Sandy from Bluff City, TN
I was looking for any advice on making a year round wreath. Any suggestions would be great. I have a wood wreath and a hot glue gun, but not ideas. Thanks.
By CRYSTAL from Zebulon, NC
Answers
November 4, 2009
1

found this helpful
Here's one of my favorites and it was posted right here at ThriftyFun last year :-)
November 4, 2009
0

found this helpful
Rather than using the hot glue why not make seasonal decorations to attach with velcro strips. Just attach one side to your wreath and the other to your seasonal decoration. You could purchase the decorations and paint or finish them if you aren't into making them yourself. You could tear old fabric to match the season into strips that would tie around your wreath, make them as shaggy as you want.
For fall gather leaves,, tie a string around the stems to make a bundle and attach for a bow at the top or where ever you like it. If you keep the base neutral colors you can always just change the season. If you want more help feel free to contact me.
November 4, 2009
0

found this helpful
Hi I got a great ideal I have one that you are trying to make I got it at the annual Hamburg Sidewalk Sale a couple of years ago and I brought the last one. What it is they took a large wooden wreath and had a big sign across the middle that said Happy Everything and then they took wooden cutouts like a heart for Valentines day and so on and then took black wiring and wired them on. I love it and it stays up all year around. Even hubby likes it. Sorry no camera to take pictures. Hope this helps and good luck.
November 5, 2009
0

found this helpful
I have a wreath on my door that I have used for a couple of years now. I started with a grapevine wreath and hot-glued different greenery. None of the pieces I used are actual flowers. They are all herbal type leaves or vines that I purchased at Michael's (always use your coupons) or watch for sales.
I switch out the bow depending on the season and it also has a small metal sign hanging from the middle that says welcome. Hope this helps.
November 7, 2009
0

found this helpful
I took a foam circle and attached greenery all around it with hot glue. Then I took different flowers or other decor and used push pins to attach them. For instance, in Spring I attach bright sunny flowers. In summer I add some summery things to it. In Autumn I pull out the flowers and summer things and replace them with fall colored leaves mixed in with the green leaves and also some small pine cones. In winter I take it all out except the greenery and put some silk poinsettias and ornamments with a big red bow.
Answer

this Question

...
Does anyone have any thrifty ideas for making an any occasion wreath or centerpiece?
Thank you.
Michael
Answers
September 3, 2012
1

found this helpful
I just made this yesterday and put it on my door.
Take a wicker or straw wreath form and tie scraps of fabric strips to it. I used fall Plaids, but you can make all kinds of seasonal colors like Spring, Summer, and the Holidays. I made sure that all the fabric was two sided, as knots tend to turn the fabric in both directions.
I made the back look nice in case a person might want to hang it in the window and the view is still nice. Embellish with buttons, table scatter from the Dollar Tree or thrift shops, and hang.
Easy Peasy and really pretty if I do say so myself!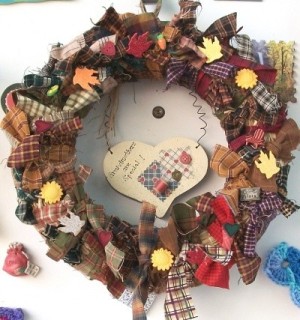 September 7, 2012
1

found this helpful
Love learning about more wreaths ideas, hoping people here know some more!
September 9, 2012
0

found this helpful
I just love your wreath, PBP.
Answer

this Question

...