Marshall is 1 1/2 years old and a shorki. I had just quit my job I loved and worked at for 6 years due to some unfair circumstances. July was fast approaching, and July in my family means my birthday and three of my childrens. I was waiting for my last payment from the company I worked my butt off for and my wonderful fiancee said "Buy whatever you want with it.
You deserve it, you earned it." He felt I needed something to show for all the long, sometimes very mentally draining, shifts that kept me away from my family entirely too much. Plus I wanted something the kids could really enjoy too.
So we went on a puppy road trip to a nearby state. We pulled up to this beautiful farm and the owner started putting near a dozen different breeds of small puppies in this octagon shaped fenced in area. I had my heart set on a small white pile of fluffy fur, but my kids got to them first. They both pointed at this petite brown pile of fur with so much expression in his eyes. It was as if he was saying "Take me, I am the one you want."
From that moment on, Marshall became ours. He is named after Eminem the rapper, his given name is Marshall Matthers. My youngest got to pick his name. At first I hated it and so did my fiance. But the name is perfect for him.
Marshall absolutely loves to go for rides in the van or truck. He thinks he is king of the world. We crack the window and he sticks his head out it, hair blowing all over and his huge underbite smile you can not miss. He does this until he absolutely can not breathe anymore. Marshall also loves to drop the kids off at school, snuggle with any of us.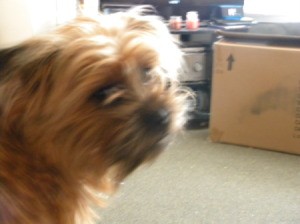 He likes to sneak off to the neighbors when their 10 times the size dog Max is out. Max is some sort of Alaskan breed, I think. Even when Marshall was a tiny little puppy, neither Max's size nor very loud bark scared Marshall.
Marshall also likes it when we forget to have all eyes on him. When this happens, you can always guarantee he will then be found laying in his dog kennel. He shuts the cage door himself and lies with his head buried to the ground and paws over his head. It's a huge indication he has done something naughty, like ate all the kitty food or went dumpster diving for leftovers. Hard to be mad at his innocent face even after seeing the trash strung out through the kitchen.
Marshall has been the best pet I have ever owned. He has put so much happiness in my children's lives and mine as well. We have been through so much and he was the perfect answer for all of us. My fiance pretended he was not happy we had got a puppy, but he too now loves him just as much as we all do. My fiance is gone all week working. When he arrives home, Marshall greets him by jumping at least 3 feet up in the air to his shoulders. He is the glue that holds this family together. Marshall the miracle worker!
By izzybee from Manchester, IA