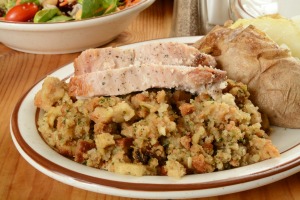 I am looking for a family recipe an uncle made for the holiday turkey. It's stuffing made with mashed potatoes, onions, hamburger, and I believe sausage also, and poultry seasoning. It was one of our all time favorites, but I lost my copy and Uncle Ed is long past. Could someone help me out?
By Judy Hardy from Nashua, NH
Answers

November 20, 2016
1

found this helpful
Best Answer
We take the turkey neck and giblets and simmer with onions and celery in a small pan till done (if using fresh herbs, they can be simmered in this too). Reserve broth, when cooled, remove as much meat as possible from turkey neck, add to other giblets and dice finely with knife or in food processor. We use boiled potatoes, not mashed in the recipe. I've added turkey bouillon flavoring, other than that, yes, this is our French stuffing recipe.
Answer

this Question

Had an uncle who made the most delicious potato meat stuffing for Thanksgiving, Christmas, or just when he wanted it. He has gone and so did the stuffing as he made it from scratch out of his head. No record of it was ever found.
I would love to know if anyone has made stuffing like this, and how to make it. Thank you in advance.
By Judy
Answers

January 17, 2012
0

found this helpful
I grew up knowing potato sausage as Swedish sausage. As an adult, I've had a hard time finding the same thing. I've had butchers tell me to give them a recipe and they will make it. Problem-no recipe. What I found was that the Polish Meat/Sausage Markets had a similar sausage called potato sausage. I wasn't completely satisfied. I then looked in old or olden times cookbooks. This one is delicious.
As for making into a stuffing, I'm not sure, but here is the potato sausage recipe I use.
1/2 lb ground beef
1/2 lb ground pork
1/2 to 3/4 C shredded or diced real small uncooked potato
1/2 C onion
3/4 t salt
1/4 t black pepper
1/8 t ground allspice
1/8 t crushed dried thyme
Mix all ingredients together. Shape into patties or make links. Pan fry over medium low heat until well browned, about 10 minutes on a side.

May 13, 2015
0

found this helpful
This recipe has regional and family variations. There are a lot of people of French Canadian descent in our area and this is a known holiday favorite for many. Our family uses summer savory as the seasoning, but savory can be used. Many others use sage. Some use pork sausage, we used plain ground pork and ground beef (the original recipe called for veal I believe.) I don't think we have the recipe written down anywhere. This is how I make it:
1 lb. ground beef
1/2 lb ground pork
1 C diced onion
1 C chopped celery
2 C mashed potatoes
bread crumbs from 4 slices dry bread
salt and pepper to taste
1 - 3 tsp. summer savory
water as needed.
This can be made in a skillet, pot, or our preferred method, cook over a double boiler. (All amounts approximations.) Cook meat with onion and celery. (We used lean, draining was unnecessary, it can be drained of grease if needed.) Add potatoes, bread crumbs, and salt and pepper. Pour in small amounts of water as necessary to mix together. We always made it the day before to let the flavors blend (and help things run smoothly) but it can be served immediately. I add the summer savory last, as the flavor is better that way. The consistency should be about the same as cooked oatmeal, and the appearance is similar, but darker. It doesn't have a lot of eye appeal, but drizzle on some turkey gravy, um-um, heaven on a plate! Bon appétit!

November 23, 2020
0

found this helpful
We grew up with this in New England & still make this every Thanksgiving & Christmas!!!
Potato & Sausage Dressing/Stuffing
5 lbs russet potatoes, peeled & cut into chunks to boil (in salted h20)
4 lbs bulk pork breakfast sausage, browned & drained of fat
1 large yellow onion, chopped
3 cups chopped celery
2 tbs Poultry seasoning or to taste (we always use Bells seasoning)
Salt & pepper to taste
Chopped giblets can be added, if you wish
Lightly saute onion & celery in some leftover sausage fat
Hand mash potatoes while still warm (you still want some lumps)- add browned sausage & vegetables - mix by hand. Add seasonings to taste. If needed , you can slightly moisten with a little turkey broth. We always bake it in a separate dish, but you can stuff some in the turkey to roast (it just comes out soupier) We've NEVER added bread - so it's great for any gluten sensitive family! The best dressing ever!!!!! So good grabbing spoonfuls cold from the fridge
Answer

this Question
My dad made meat and potato stuffing with onion, salt pork, potatoes, seasonings, and the liver and giblets. It was made of turkey too. I don't know what other kind of meat he used, but it had to have another meat. Plus, I'm not sure of amounts to use either. Can anyone help me with this?
By amanda ouellet from las vegas, nv.
Answer

this Question