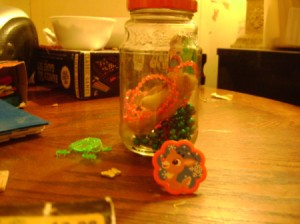 A lot of times when I am cleaning, I find little items that the children like, but don't want to really play with. In that case, I will take whatever jars I have, and fill them up with the little jewels and treasures!
Here are some of our pictures of our most recent treasure memory jars.
I was going to use duct tape on top, but later decided to use a picture my daughter had colored. It looks a little different, and you could decorate the lid with fabric if you had some extra laying around.
These are really fun to make and they get those little trinkets out of the bottoms of toy baskets and into a medium where they can be enjoyed!