Microwave Safety Tips
Solutions
Share on ThriftyFunThis page contains the following solutions. Have something to add? Please share your solution!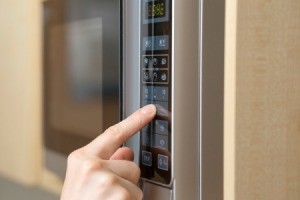 Several times, I used the microwave oven, only to have pitted "microwavable bowls," and the inside of the microwave, a food mess.
I discovered on my own, to use a smaller "heat" setting for a longer period of time.
If a product says "heat on high for 5 minutes," and I know it will splatter all over the microwave, and pit the microwaveable bowl, instead, I will reduce the "temperature," or setting to about 4% or 3% on my microwave, and increase the cooking time. At the end of cooking, if the food still needs cooking, I will give it a final 100% "blast" for about 30 seconds to 1 minute. Of course, this depends on your microwave oven, and may be done with a 60%, 70%, or more "blast."
Over the years, I have bought "microwave safe plastics" only to have them get pitted and deformed by following the cooking instructions, and the pitting and deforming makes them harder to clean.
One day, my husband and I bought some of these microwaveable plastics at a Walmart store, and the cashier remarked that hers always got ruined, and what an expense. We were in a hurry, and I didn't answer, but later that day, I called the manager, and explained the lower heat settings on the microwave.
If my microwave is set at 50% (5) it will splatter, so I started using 40%, and 30%, and increasing the cooking times for splattering foods. I don't have it down to a science, but I have found that by reducing the power to 40% or 30%, and depending on the food, giving it a final short blast at a higher heat, stops my microwaveable plastics from getting those nasty pits in them, and also stops all of that unsightly mess, and time-consuming cleaning of the microwave, using more cleaning products.
I usually increase the cooking time by one minute or so, more if the food is refrigerated, it takes experimentation, and I do this by cooking in increments of several seconds at a time, like 10 or 20 seconds toward the end of heating, depending on what I'm heating up.
I hope I helped someone today.
By Carol Rodriguez from South Bend, IN
There are traits unique to microwave cooking that affect how evenly and safely food is cooked. "Cold spots" can occur because of the irregular way the microwaves enter the oven and are absorbed by the food. If food does not cook evenly, bacteria may survive and cause foodborne illness. Simple techniques ensure that meat and poultry microwave safely.
DEFROSTING FOOD
Remove Food From Store Wrap Prior to Microwave Defrosting: Foam trays and plastic wraps are not heat stable at high temperatures. Melting or warping from hot food may cause chemicals to leach into food.
Cook Meat and Poultry Immediately After Microwave Thawing: Some areas of frozen food may begin to cook during the defrosting time. Holding partially cooked food is not recommended because any bacteria present would not have been destroyed.
Remember to Take Food Out of the Microwave: Do not forget about a food item that has been thawing in the microwave. Food should not be left out of refrigeration more than two hours.
UTENSILS SAFE TO USE
If you are not sure if pottery or dinnerware is microwave safe, place the empty utensil in the microwave alongside a cup of water in a glass measure. Microwave on high 1 minute. If the dish remains cool, it is safe to microwave. If the dish gets warm or hot to the touch, do not use.
Safe Utensils for Microwave Cooking: These include glass and glass ceramic cookware and those labeled for microwave use.
Do Not Use Cold Storage Containers: Margarine tubs, whipped topping bowls, cheese containers and others can warp or melt from hot food, possibly causing chemical migration.
Wraps and Bags: Wax paper, oven cooking bags, parchment paper and white microwave paper towels should be safe to use. Avoid letting plastic wraps and thin plastic storage bags touch foods during microwaving. Never use brown grocery bags or newspaper in the microwave.
REHEATING FOODS
Heat leftovers and precooked food to at least 165 ° F. Food should be steaming and hot to the touch.
Cover foods to hold in moisture and provide safe, even heating.
Microwaving baby food and formula is not recommended because uneven heating can result in scalding a babys mouth. If microwaved, stir food, shake bottles and test for lukewarm temperature.
MICROWAVE COOKING
De-Bone Large Pieces of Meat: Bone can shield the meat around it from thorough cooking.
Arrange Food Items Uniformly in a Covered Dish and Add a Little Liquid: Under a cover, such as a lid or vented plastic wrap, steam helps destroy bacteria and ensures uniform heating. Oven cooking bags also promote safe, even cooking.
Cook Large Pieces of Meat on Medium Power (50 Percent) for Longer Times: This allows heat to conduct deeper into meat without overcooking outer areas.
Stir or Rotate Food Once or Twice During Microwaving: Turn large food items upside down so foods cook more evenly and safely.
Do Not Microwave Whole, Stuffed Poultry: Cooking of meat is so rapid, the stuffing inside might not reach a sufficient temperature to be safe.
Never Partially Cook Food: When microwaving food partly done to finish cooking on the grill or conventional oven, transfer the microwaved food to another heat source immediately.
Use a Meat Thermometer or the Ovens Temperature Probe: This is important to verify the food has reached a safe temperature after cooking.
Check in Several Places to Be Sure Red Meat is 160 ° F; Poultry, 180 ° F: Ovens vary in power and efficiency. Observe standing times given so cooking is completed.
Source: USDA Food Safety and Inspection Service. Microwave Food Safety. June 1997.
Archives
ThriftyFun is one of the longest running frugal living communities on the Internet. These are archives of older discussions.
Don't use the microwave for deep-frying, canning, or heating baby bottles. These applications don't allow adequate temperature control for safe results.

Stay with the oven when microwaving popcorn, for heat buildup can cause a fire. Time heating per instructions but lean toward the shorter time (some ovens can scorch popcorn in two minutes).

Don't dry or disinfect clothing or other articles in the microwave because of the risk of fire.

Use only microwave-safe utensils. Hot food melts some plastics, such as margarine tubs, causing migration of package constituents. It's a good idea to use glass for fatty foods, which get particularly hot, though not all glass and ceramics are microwave-safe.

Here's a quick test for glass: Microwave the empty container for one minute. It's unsafe for the microwave if it's warm; it's OK for reheating if it's lukewarm; and it's OK for actual cooking if it's cool.

Properly used, a microwave oven is extremely safe. Under authority of the Radiation Control for Health and Safety Act, FDA's-Center for Devices and Radiological Health ensures that microwave ovens made after 1971 meet a radiation safety standard requiring: two independent interlock systems to stop microwave production the moment the latch is released or the door is opened. A monitoring system stops the oven if either or both of the interlocks fail.

To be sure radiation levels from a microwave oven remain as low as possible, consumers can take these steps:

Don't use an oven if an object is caught in the door or if the door doesn't close firmly or is otherwise damaged. If you have an older model oven with a soft mesh door gasket. Check for deterioration which would require servicing.

If you suspect excessive microwave leakage, contact the manufacturer, a reputable servicing firm, the local state health department. The FDA has found the inexpensive home microwave-testing devices that are available to be generally inaccurate.

Don't operate an empty oven if the introduction manual warns against this. In some ovens the magnetron tube can be damaged by unabsorbed energy.

If there are signs of rusting inside the oven, have the oven repaired.

Clean the door and oven cavity---the outer edge. too. ---with water and mild detergent. Do not use abrasives such as scouring pads.

Follow the manufacturer's instruction manual for recommended operating procedures and safety precautions.

Be sure children who use the microwave can do so safely.

There previously was concern that electromagnetic emissions from microwave ovens could interfere with heart pacemakers. Modern pacemakers are shielded against such interference, but some older models may still be adversely affected by proximity to a microwave oven. If in doubt, check with your doctor.

Microwaved foods typically retain more vitamins and minerals foods cooked by other methods because microwaving takes less and doesn't require much additional water.

Though microwaves produce heat directly in the food, they really don't cook food from the inside out. With thick foods like roasts microwaves generally cook only about an inch of the outer layers. The heat is then slowly conducted inward, cooking along the way.

An area of a food where there is increased moisture will heat more quickly than other areas. So, when heating up a jelly roll, for instance, it's a good idea to let the food stand after cooking for a minute or two until the heat disperses from the high moisture jelly to the low moisture pass throughout. To promote uniform cooking, recipes for microwave ovens usually include directions such as turn the food midway through cooking and cover and let stand after cooking.

As a rule, it's not good to use metal pans made for conventional ovens or aluminum foil because reflected microwaves cause uneven cooking and could even damage the oven. However, some new metal cookware is specially configured for use in microwave ovens. These pans are safe, provided instructions for use are carefully followed.

Some oven models have a protector on the magnetron tube to allow use of a small amount of metal, such as meat skewers or strips of foil over chicken wings and legs. The instructions that come with each microwave oven tell what kinds of containers to use and how to test for suitability for use.

The following test is used for gauging energy output: Fill a glass measuring cup with exactly 1 cup of tap water. Microwave, uncovered, on "high" until water begins to boil.

If boiling occurs in: wattage is:

less than 3 minutes 600 to 700
3 to 4 minutes 500 to 600
more than 4 minutes less than 500 watts

About The Author: This information written by Anne Field, Extension Specialist, Emeritus, with references from the FDA Consumer newsletter. Michigan State University Extension