How much does a chihuahua/pincher usually weigh? Mine is 10 weeks and is already 5.5 pounds. I was told he was a pure chihuahua, but the vet said something different. He said he could weigh up to 15 pounds. I'm scared.
Mary from Chicago
Answers:
Miniature Pincher / Chihuahua Mix
This is our baby girl Uggs. She a lttle cuddle bug and loves to lay all over us especially near our necks. We weren't sure exactly what she was mixed with until I came across this web page. Her temperment is like a min pin too....loves to bark, play with her toys, eat, play with the kids and cat, and cuddle.
Her sister is all blonde and has a lot longer legs. She's the best we just can't seem to potty train her. She seems to constantly want to poop on the carpet and pee on any rugs. but she also uses the puppy pads sometimes. Do you have any suggestions? A few stray dogs come around our neighborhood so I prefer not to take her outside all the time and possible get sick. thanks. (02/03/2009)
By Isaac and Breanne
Miniature Pincher / Chihuahua Mix
I have loved my Sebastian. He is now 4 months old. He was a very sweet disposition. I am lucky not really a barker unless he feels he needs to protect us. I believe that the chi/pin mix is one of the best. You get the best of both breeds. (02/05/2009)

By ywaleman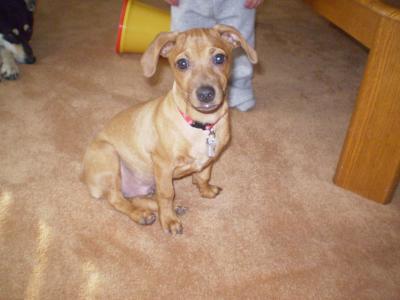 Miniature Pincher / Chihuahua Mix
I am confused. You mention chihuahua/pincher mix and then say full breed chihuahua.
Some full grown chihuahua/pincher's have been known to weigh as much as 20 pounds. (02/05/2009)

By Deeli
Miniature Pincher / Chihuahua Mix
I have a miniature pincher and chihuahua mix. She is very cute and is very twister like girl.lol She is 6 months old. I love this mix. I would like a a match for her to breed her. Please email rachelveneno AT yahoo.com I live in Chicago. Thank you (02/06/2009)

By Rachel V.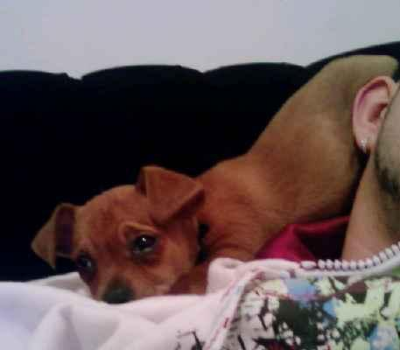 Miniature Pincher / Chihuahua Mix
We have an adorable Female puppy named KC that is almost 7 months old. We got her from a Chihuahua Rescue. We were told she would not get larger then 6 pounds and she is now 9. We know she is a mix and think she is probably a minpin/chi. She prances around just like a little deer sometimes and is very smart and sweet. Her name was already KC and since my husband and I were both born in KC, Missouri we decided to keep that name for her. judy bullock9 @ hotmail (dot) com (02/08/2009)
By Chippy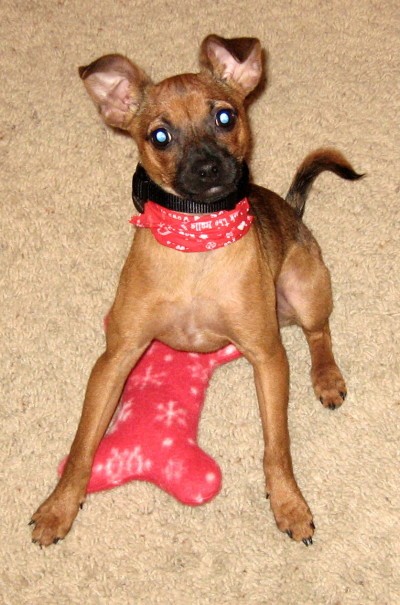 Is this a chi-pin mix?
This is Hazel aka "Zuzu" because she runs so fast! She is 6 months old and weighs 5.4 lbs. Would you say she is a mini-pinchi mix? Email me! Jamaicanbabe17 @ yahoo . dom (02/08/2009)

By D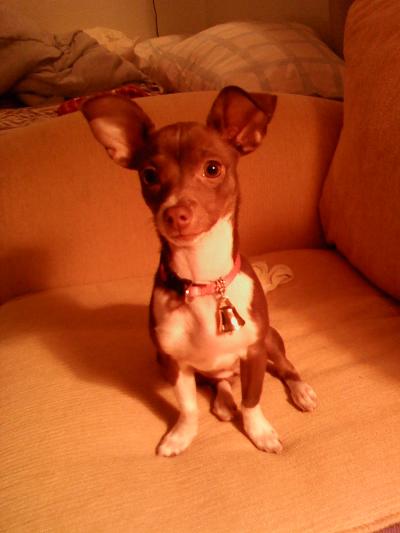 Miniature Pincher / Chihuahua Mix
This is Enzo adopted from a rescue organization in July of 08. I was told he was a Chi mix and by looking at these pictures it seems that maybe he may be a Mini-Pin Chi!
He is a very fun, active little boy. Best guess is he's 2 years old. Lives to go for long walks and would eat until he exploded if he could. He likes most people in neutral territory but has a bit of a hard time warming up when they come into our home. He prefers women over men. Since we don't know his history we've worked really hard to socialize this boy with animals and people. He's coming along very nicely and has been a fun, loving boy. (02/08/2009)

By Kristi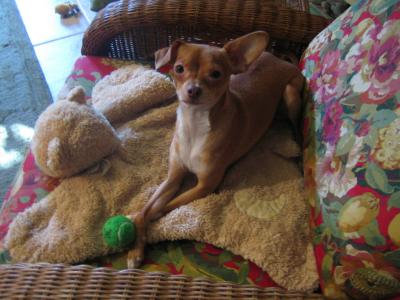 Miniature Pincher / Chihuahua Mix
This is our chi pin mix. Her name is Fergie. She will be one year old on Valentines day! ♥ She is such a joy to have around. She always wants to be involved in anything that's going around in the house and she loves to cuddle! She is also a great companion to my 4 year old daughter. Some people told me not to get a toy breed because they are not good with children but she is just so loving, Wouldn't hurt a fly. So happy to have her as part of the fam! =) (02/09/2009)

By Jodilee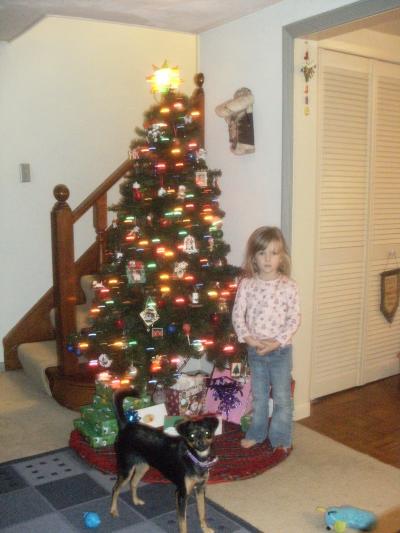 Miniature Pincher / Chihuahua Mix
I have a house full. Mom is 12 lb full chihuahua, Dad is a Minchi at 7 lbs. Minchi's are a wonderful mix. I adore them all. Smart and easy to train. They love attention. (02/11/2009)

By Roxie And Familty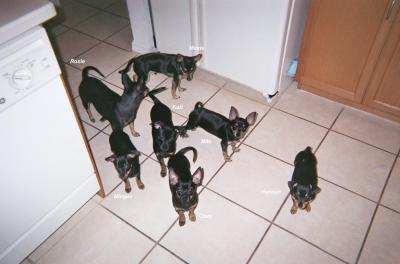 Miniature Pincher / Chihuahua Mix
This is Paco. (02/17/2009)

By Brittany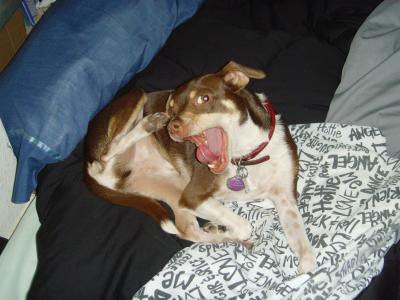 Miniature Pincher / Chihuahua Mix
We found Oliver and he is just a joy! We couldn't live without him. (02/17/2009)

By The Marcella's
Miniature Pincher / Chihuahua Mix
I adopted Waldo (a long haired chihuahua / miniature pincher mix) Sept 1, 2008. He's a little over a year old and is a rescue dog. He's the best little guy and I wouldn't want any other dog. He loves to cuddle and hang out with me at ALL times. He loves to chew on bones and loves meat. He wouldn't hurt a fly, but is very protective over me and will bark when strangers (to him) come in our house. (like he could hurt anyone, haha) He only weighs 12lbs, which is perfect, he can be carried anywhere and you don't have to worry about stepping on him. He won't get any bigger than this, and he's the best! If you're scared about getting a chipin or minchi or whatever they're called, don't be :) they're amazing! (02/18/2009)

By Alys2525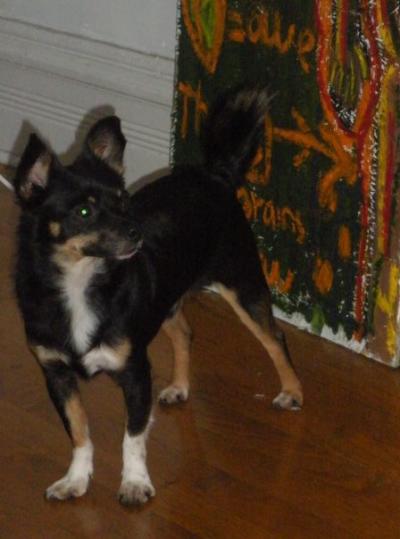 Miniature Pincher / Chihuahua Mix
If Eddie's not one of these, then I don't know what he is, and I don't particularly care. (02/18/2009)

By apple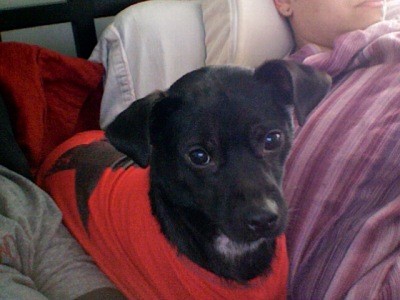 Miniature Pincher / Chihuahua Mix
Bitsy is 2 1/2 years old. She is our baby! We love her & she loves us. She loves my daughter the most but she loves all of us too! She lets us known if any one is around. She doesn't like to many dogs. sometimes we think she thinks she isn't a dog. She was give to my husband because she was going to the pound because a 80 year old lady was giving her for a Christmas present but she was so fast the lady thought she would make her fall an break her hip. I didn't want her but, my husband brought her home because he didn't want her took to the pound.

He knew the minute I saw her I would fall in love with her, and I did! I don't know what we would do without her now. We are thinking of breeding her for the 1st time this his her 4th heat. We have found a akc minpin that is the same color. I think they would make a cute puppy or two. I'm just worried that something will happen to her when she gives birth to the puppies & if that happen we would not be able to handle it because we love her like a child. She sleeps under the covers with me but, she makes her rounds at night to check on everyone then she comes back to bed after she knows everyone is okay. She is very smart to be a mixed breed. (02/18/2009)
By Joan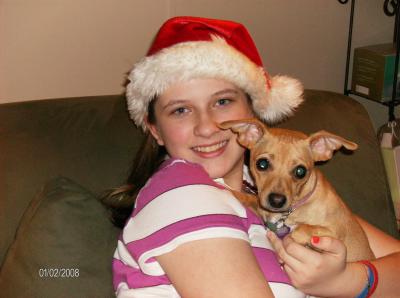 Miniature Pincher / Chihuahua Mix
A previous pic of Ares at 8 weeks old is posted here. This is him now at about 6 months old with his Chihuahua buddy Vito. Except for the Chihuahua size of his legs, he looks MinPin. I've heard from other ChiPin owners that they are more high strung than either breed, and in Ares' case this is true. He needs constant attention, reassurance, and food.
We recently adopted a Catalonia Leopard Dog/Pit Bull Mix from a rescue organization that contacted us because he had a broken leg and, no one wanted to adopt a "special needs" dog. Achilles is now a healthy 4 month old who is Ares' play buddy, tearing through the house and competing for everything. Ares is very affectionate, and comical with a strong sense of canine hierarchy, but easily excited. You can't help but give him your heart! (02/19/2009)

By Mary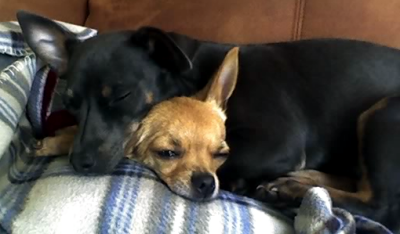 Miniature Pincher / Chihuahua Mix
This is Zoe. She is 9 weeks old in this picture. She is a bundle of joy. (02/19/2009)

By Kate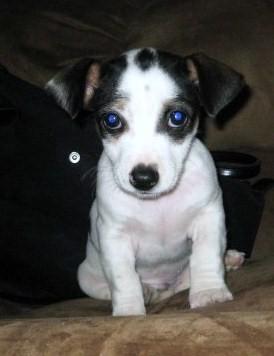 Miniature Pincher / Chihuahua Mix
This is Gizmo. He is now 10 months old and is one of the best dogs I've ever had. Hes so loving, caring and smart. It's great to see how all of the other chipins on here turned out. (02/22/2009)

By Elyse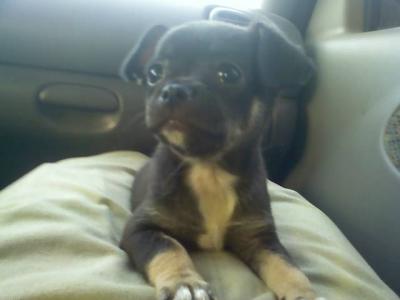 Miniature Pincher / Chihuahua Mix
I got a "chihuahua" for valentines day! the love of my life! When I started showing him to people they said " you have a minpin chi! So my curiosity got the best of me, and here I am, looking at this site. Wow! My little spike looks like he could be the twin of some of these dogs! but whether he is chihuahua or minpin chi. I love him so much! (02/24/2009)

By Nikki
Miniature Pincher / Chihuahua Mix
Ozzy is our 2 month old 2nd Chipin. Our first was 3 year old Buddy. The are completely different in looks at this age.
We love their curiosity and sweet personalities. Ozzie wants to everything Buddy and we do. Love our chipins. (02/24/2009)

By jklovdogs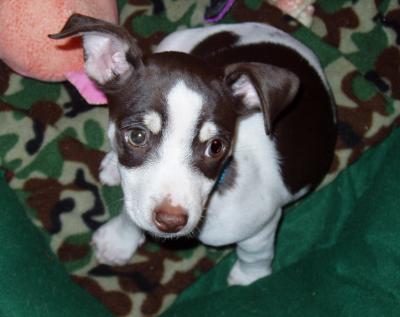 Miniature Pincher / Chihuahua Mix
Is it a chipin or pure minpin? (03/24/2009)

By DrPoet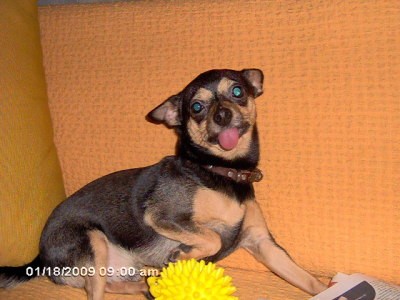 Miniature Pincher / Chihuahua Mix
Hello Everyone. I have a Minpin/Chi Mix and he is the best if you ask me and my wife. He found us at a no kill shelter in Denver Co. He was recovering from a broken leg ( His previous owner said it would be cheaper to get another dog than fix his leg ). Now they might have been right but they have no idea what they gave up.

His name is Speedy and holds up to the name. He is probably the fastest Min/Chi mix I have ever seen. Enough about me lets give you the heads up on Speedy.

Speedy was adopted from the shelter and went straight into a 18 wheeler.He loves to travel with myself and wife seeing how we are truck drivers, His favorite snacks are cherios and gold fish crackers ( in moderation , one or two a day ).

Speedy loves walks and when he is not on his walks or sleeping he cuddles. He is a great animal but doesn't much care for little one (children), I think it is due to his past but he does love Mommy and Daddy and if you couldn't tell I love my little pride and joy.
(05/24/2009)

By cocowboy1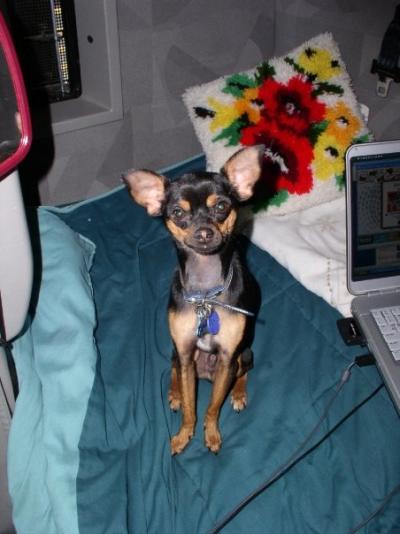 Miniature Pincher / Chihuahua Mix
Speedy, my minpin/chi mix weighs in at 8.8 lbs and he is almost 3 yrs old. (05/24/2009)

By cocowboy1
(06/11/2009)

By Anonymous
Miniature Pincher / Chihuahua Mix
This is Chuckie my Chi-pin. He's 4 months and very fun loving and obedient, more like a little brother than a dog. I love him.
Miami, FL (08/12/2009)

By Tigerius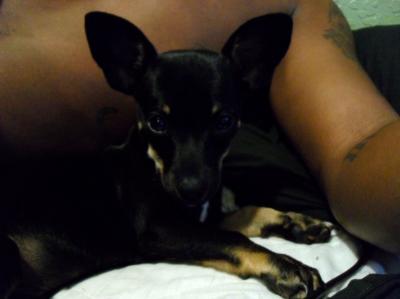 Miniature Pincher / Chihuahua Mix
Roo is a one year old, chocolate brown chihuahua/mini pin, and loves to take walks; around the household he is affectionately referred to as: the "pooh butt." His hobbies include terrorizing the kitties, sounding the alarm bark, and snuggling with momma. We love him so! Seriously though, what a fantastic pup/mix-very intelligent, loving, patient, and of course entertaining. (08/17/2009)

By roo pooh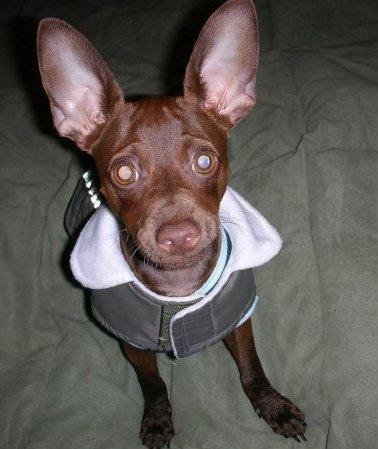 Miniature Pincher / Chihuahua Mix
This is Max. He is a 4 mth old Chipin. He is very lovable & definitely has personality plus plus..lol.
His coloring is what caught our eye. Then when we went to see him, the "wet willie" told me we were not leaving without him. He is the best pet I've ever had! (09/13/2009)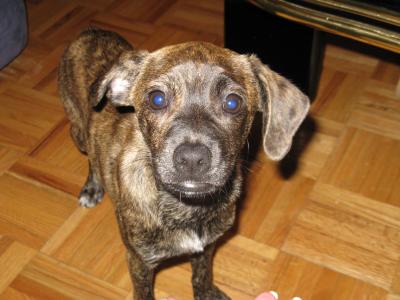 Miniature Pincher / Chihuahua Mix
I have had my min pin/ chi for 6 years. She is one of the best dogs I have ever had. I think that people are breeding other things to chi also to say they are chi. Rat terriers are another big breed they use. If you don't have papers you will never know what breed it is. CKC papers are junk! anybody can get them for 3 pictures and $12. So if you want a pure breed do your homework. But if you want a mixed dog. Min pin/chi are the way to go! (: (09/24/2009)

By star mommy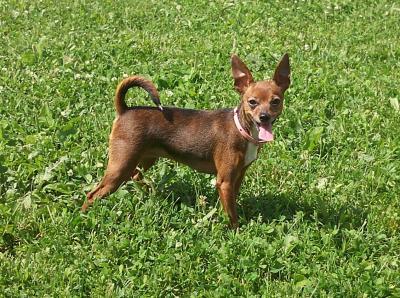 Miniature Pincher / Chihuahua Mix
Petey, my chi pin just turned 14 years old. He is around 14 lbs. The Vet says he should only be 9 lbs. He doesn't look fat, just very muscular. I got him when he was 6 weeks old. He is now deaf and can't see real well from cataracts. He was a very unfriendly, snappy dog up until the last year or so.
He has bitten a few people in the ankles. He bit the Vet when I first got him. I had no idea how to break him of that. His personality was like the worst part of the chihuahua and miniature pincher. Never was a friendly dog to strangers or other animals. He's been a very wonderful and loyal companion to me. He loves going on walks and the beach.
He developed swollen saliva glands a year and half ago. The vet told me he had lymphoma. I opted not to do chemo and he is still alive and very active. It just scares me when he runs into things because of his failing sight. I got a 2 year old cat, Gracie last year and they are great friends. He's changed a lot since he can't hear or see well. He is like an old man now.
Update: July 2010 This is him napping after a long walk. He'll be 15 on Nov. 1st. Still hanging in there but moving slower and one eye is completely blind and the other just barely sees shadows. He's the most faithful and loyal male in my life! :) (11/05/2009)

By oceangirlnla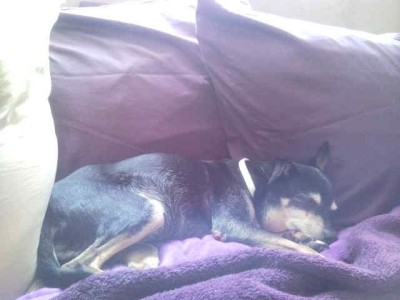 Miniature Pincher / Chihuahua Mix
We got our Chipin in October at the pound. Nutmeg "Meg" is the sweetest and smartest puppy we have ever had. She is so laid back, loves to ride in the car and hardly ever barks. They estimated her birthday to be Feb. 14, 2009. She weighs about 9lbs. Her coloring is so unusual. Our vet said that she had never seen a small dog with her markings. (01/11/2010)

By FrauKlaus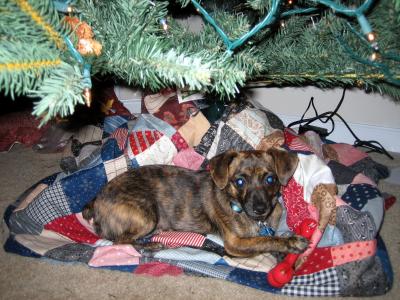 Miniature Pincher / Chihuahua Mix
We found our sweet boy at a shelter and the vet said he was a min-pin/chihuahua mix. His face looks chihuahua and his body and coloring looks min pin. He has legs a mile long and is mama's boy. His name is Husker! Him and our husky Glacier have become best buds! Such a great temperment and kind heart. One of the sweetest dogs I have ever had! He will be 1 in Sept. (07/19/2010)

By pupmom82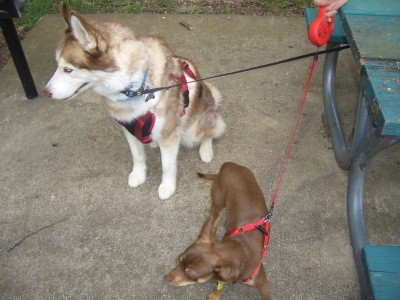 Miniature Pincher / Chihuahua Mix
My min-pin/ chihuahua mix, "Husker".
He is the so sweet, loving, loyal. He loves to snuggle with me! Is a totally a mama's boy. He doesn't really bark. Except when I get hm from wk he does this excited yelp when he greets me. He listens for the most part and eats like every meal is his last. He is one of the best dogs I have ever had, besides my Husky. (07/19/2010)

By pupmom82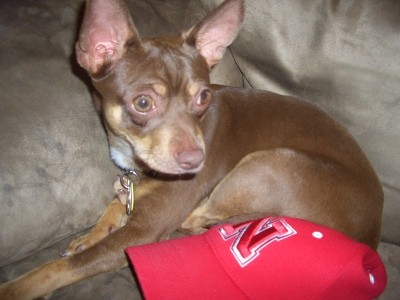 Miniature Pincher / Chihuahua Mix
Our Roxy is super vicious she looks like a sweet 'little thing but shes vicious! She is 7 months old and doesn't look like she is gonna get much bigger! She was the only one in her litter to look more like Mini Pincher than Chihuahua. She was born with a chopped tail. I know some people think it's cruel to cut their tail, but ours was born this way. This is her on July 4, 2010, in her patriotic dress.
(08/02/2010)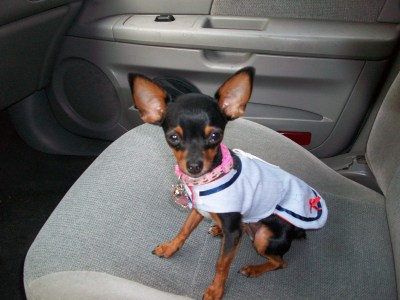 Miniature Pincher / Chihuahua Mix
"Chloe" is only about 6 or 7 lbs. I have always assumed she was a chihuahua mixed with Minpin, Chlo also has the "curly tail" along with many other chi traits, we love her to death! (08/30/2010)

By eemyanne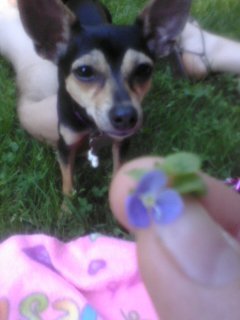 Miniature Pincher / Chihuahua Mix
This our Baby girl Tacho Belle. We have had her for nine years and until I came upon this website. I never knew they were called Chipins. Thanks so much, now I know what to tell people when they ask what she is. (01/06/2011)

By alleykin
Miniature Pincher / Chihuahua Mix
This is my baby. Her name is Taffy. We got her from the Humane Society In Grand Forks,ND. She is very well behaved,loving and protective She barked at a snowman the other day. LOL We were so Happy to have her part of our family. Now if anyone disagrees she is a Chipin let me know what you think. The Vet office told us what she is. Thanks (02/21/2011)

By lovetobeme35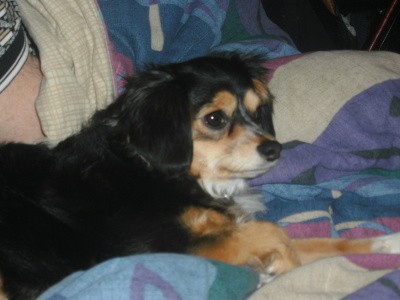 Miniature Pincher / Chihuahua Mix
We just adopted 10 month old Gizmo and are so pleased with the little guy. He looks like a German Shepard puppy who will never grow up! His temperament is great, he is very bright, and loves to play and snuggle. Even if your Chipin was a surprise acquisition, I have no doubt you will never be disappointed. He stole all our hearts, and gets compliments all the time from pure breed owners. Gotta love that one as a bonus! (03/13/2011)

By beclove03